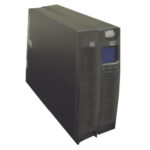 AET Series 1 – 3.2 KVA Single Phase Output True Online COTS UPS
Communication Equipment
Network Servers
Computers
Workstations
Wireless Communications
Other Electronic Peripherals
Compare
Description
Models
Data Sheets
Description
FEATURES AND BENEFITS
Flexible Mounting Orientation
Allows system integrators more flexibility in designing their backup power system to maximize space. With the rotatable LCD design, the user can mount the UPS vertically or horizontally. 19″ Rack Mount adapters are included with each unit.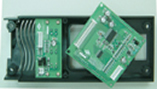 User-Friendly Graphic LCD
This robust LCD display enables field service engineers to easily troubleshoot the UPS without opening the box thus reducing downtime.

Single Voltage Battery Pack Design
A 48 VDC standard battery pack design comprised of 4 x 12V7AH is used in all AET series UPS models and are interchangeable with each other.
Additional battery drawers can be added to increase battery runtime.

Hot-Swappable Battery
The standard 48 VDC battery pack allows installers to take the headache out of battery installation. Installers can now simply slide the used battery pack out of the unit and replace it with a new pack. All AET battery packs are interchangeable reducing the risk of system failures.

Light Weight Design
The AET Model is specially designed for field installation. The light weight design requires only a single installer to put the system in place. This will significantly reduce on-the-job injuries and installation fees
User-Remote Interface
The off-site user can now test, set parameters, monitor power status, save files, and shutdown the system all via the remote interface. The user-remote interface includes SNMP/HTTP Card, RS232, USB, DB9, and AS400 interface.
INTELLIGENT POWER MANAGEMENT SOFTWARE
CRUISER SOFTWARE (INCLUDED)
Users are able to customize the various Cruiser controls such as warning method, alarm messages and several shortcut icons to easily access the most commonly used functions. The Cruiser software can send warning messages to a pager, via e-mail or over the LAN, thus providing an early warning system for power failures, system shutdown and variety of other scenarios. It guarantees a faster response time, even when you are not in the office.Click Here For Update Patch 1.0 For Cruiser Software.
Original software needs to be installed first before installing the upgrade!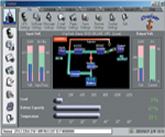 Features:
Green mode supported
PFC Status Display
Cross platform supported
UPS monitoring utility
Scheduled system shutdown
Graphic display of UPS status
Warning notification via e-mail or pager
Customized controls
User definable warnings
Multi-language versions
"Read & Write" functions when setting output voltage and frequency (Optional)
Interface & OS Compatibilities
RS 232 (Standard)
Windows: Win95, WinNT4.0, Win98SE, Win2000, WinMe, WinXP
Linux: 7.0 ~ 7.3, 8.0 ~ 8.4, 9.0
Mandrake: 8.2, 8.3, 8.4, 9.0
Novell: 4.x, 5.1
USB (Optional Card)
Windows: Win 98SE, Win2000, WinME, WinXP
Other major UPS monitoring software and SNMP / HTTP Cards compatible with all AET Series UPS
(For more information please contact novasales@novaelectric.com)
Internal or External Networking Card: Net Agent II or USHA PRO (SNMP,HTTP, PPP, TCP/IP, etc)
RUPS via Contact Closure (DB9)




120 VAC MODELS

PARTIAL MODEL NAME
AET11-1.5K
AET11-2.2K
AET11-3K

Outline Drawing
Click Here
Topology
True On-Line, Double Conversion

On-battery Output Waveform
True Sinewave

Number of Phase
Single (1Phase 2W + G)

INPUT

Maximum Capacity (VA/W)
1500VA / 1050W
2200VA / 1540W
3000VA / 2100W

Nominal Input Voltage
120 VAC

Input Voltage Range
80 to 138VAC

Nominal input Frequency
50/60 Hz +/- 5 Hz

Input PFC
>0.98 @ full load

Input Short Protection
Circuit Breaker on front of the UPS

OUTPUT
Nominal Output Voltage
100/110/115/120VAC

Output Voltage Regulation
Rated Voltage +/-2%

Output T.H.D.
<3% @ Linear
Load
High Efficiency Mode (AC to AC)
>86%
>88%
>88%

Crest Factor
3:1

Start on Battery
Yes
Output Frequency
50/60Hz (Autotracking)

Overload Capacity
Sustaining at least 120 seconds at 101-110% load, 111-150% max 12 seconds.
Immediate shutdown and transfer of load to bypass at 150% load. Auto transfer back to UPS when overload is removed

BATTERY
User Repleaceable Battery
1 x 48VDC Battery Pack
96V (2 x 48VDC)Battery Pack
96V (2 x 48VDC)Battery Pack

Typical Backup Time (Full/Half Load)
6 / 17 minutes
9 / 26 minutes
6 / 17 minutes

Battery Type
Sealed VRLA 12V7AH; Hot Swap

Recharge Time to 90%
8 Hours

Extended Battery Cabinet
Extendible Battery
Module in 2U high (comprises 2 x 48VDC Battery Packs)
Operation
Transition from or to battery operation is accomplished with no interruption of power to the load. Upon restoration of input power, the UPS will automatically resume normal operation and recharge the battery

ADVANCE WARNING DIAGNOSTICS

Front Panel Indication
Front panel menu driven LCD monitoring and control panel for all functions

Audible Alarms
DC Mode, Low Battery, voltage / Frequency Error, Charger Fail, Over Load, Fault, PFC Overload

COMMUNICATION INTERFACE

Communication Port
RS 232 Port (Standard); DB9, AS400, USB Cards (Optional)

SNMP Maneageable
Yes
ENVIRONMENTAL
Temperature (Operation/Storage)
0 ºC to + 40 ºC / -15 to + 50 ºC

Relative Humidity
0% to 95% non-condensing

Altitude
Up to 10,000 ft (3,000 meters) at up to 40 ºC, without derating

Audible Noise
<45 dBA @ 1 meter

MECHANICAL

Dimensions – (WxHxD)
Note: Change W to 19 in. for Rack Mount Configuration
426 x 88(2U) x 500 (mm) 16.77 x 3.46 (2U) x 19.7 (in)
426 x 176 (4U) x 500 (mm) 16.67 x 6.93(4U) x 19.7 (in)
426 x 176 (4U) x 500 (mm) 16.67 x 6.93 (4U) x 19.7 (in)

Weight (UPS/Batery Packs)
26.4 / 24.6 lb 12 / 11.2 Kgs
29 / 68.7 lb 13.2 / 31.2 Kgs
29.5 / 69 lb 13.4 / 31.4 Kgs

Total Weight
51lb 23.2Kgs
97.7lb 44.4Kgs
98.5lb 44.6kgs

CONFORMANCE
EMI/RFI Compatibility
FCC Part 15 Class B

Safety
UL, cUL (CSA)

220 VAC MODELS

PARTIAL MODEL NAME
AET11-1.6K
AET11-2.5K
AET11-3.2K

Topology
True On-Line, Double
Conversion
On-battery Output Waveform
True Sinewave

Number of Phase

Single (1Phase 2W + G)

INPUT

Maximum Capacity (VA/W)

1600VA / 1120W

2500VA / 1750W

3200VA / 2240W

Nominal Input Voltage

230 VAC

Input Voltage Range

160 to 276VAC

Nominal input Frequency

50/60 Hz +/- 5 Hz

Input PFC

>0.98 @ full
load

Input Short Protection

Circuit Breaker
on front of the UPS
OUTPUT
Nominal Output Voltage

208/220/230/240VAC

Output Voltage Regulation
Rated Voltage +/-2%

Output T.H.D.

<3% @ Linear
Load

High Efficiency Mode (AC to AC)
>86%
>88%
>88%

Crest Factor
3:1

Start on Battery
Yes

Output Frequency
50/60Hz (Autotracking)

Overload Capacity
Sustaining at least 120 seconds at 101-110% load, 111-150% max 12 seconds.Immediate shutdown and transfer of load to bypass at 150% load.Auto transfer back to UPS when overload is removed

BATTERY
User Repleaceable Battery

1 x 48VDC Battery Pack

96V (2 x 48VDC)Battery Pack

96V (2 x 48VDC)Battery Pack

Typical Backup Time (Full/Half Load)

6 / 17 minutes

9 / 26 minutes

6 / 17 minutes

Battery Type

Sealed VRLA 12V7AH;
Hot Swap

Recharge Time to 90%

8 Hours

Extended Battery Cabinet

Extendible Battery
Module in 2U high (comprises 2 x 48VDC Battery Packs)
Operation
Transition from or to battery operation
is accomplished with no interruption of power to the
load. Uponrestoration of input power, the UPS will automatically
resume normal operation and recharge the battery
ADVANCE WARNING DIAGNOSTICS

Front Panel Indication
Front panel menu
driven LCD monitoring and control panel for all
functions
Audible Alarms
DC
Mode, Low Battery, voltage / Frequency Error, Charger
Fail, Over Load, Fault, PFC Overload
COMMUNICATION INTERFACE

Communication Port

RS 232 Port (Standard);
DB9, AS400, USB Cards (Optional)
SNMP Maneageable
Yes
ENVIRONMENTAL
Temperature (Operation/Storage)
0 ºC to + 40
ºC / -15 to + 50 ºC
Relative Humidity
0% to 95% non-condensing

Altitude
Up to 10,000 ft
(3,000 meters) at up to 40 ºC, without derating
Audible Noise
<45 dBA @ 1
meter
MECHANICAL

Dimensions – (WxHxD)Note: Change W to 19 in. forRack Mount Configuration
426 x 88(2U) x 500 (mm)
16.77 x 3.46 (2U) x 19.7 (in)
426 x 176 (4U) x 500 (mm)
16.67 x 6.93(4U) x 19.7 (in)
426 x 176 (4U) x 500 (mm)16.67 x 6.93 (4U) x 19.7 (in)

Weight (UPS/Battery Packs)
26.4 / 24.6 lb 12 / 11.2 Kgs
29 / 68.7 lb 13.2 / 31.2 Kgs
29.5 / 69 lb 13.4 / 31.4 Kgs

Total Weight
51lb 23.2Kgs

97.7lb 44.4Kgs

98.5lb 44.6kgs

CONFORMANCE
EMI/RFI Compatibility

EN50091-2 ClassB,
EN55022B. IEC/EN61000-3-2 (Harmonic Current)
Safety
CE, TUV, GS