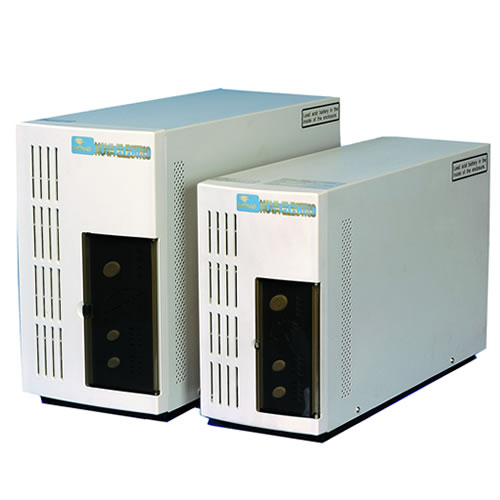 1 KVA – 3.2 KVA True Online UPS
Description
Network Servers
Computers
Workstations
Wireless Communications
Other Electronic Peripherals
FEATURES AND BENEFITS
True On_line Double Conversion
To ensure clean, no-break power for a wide range of mission-critical applications.


Advanced Microprocessor Control
Power failure, power restores, battery failure or other events will be detected and the user informed. A shutdown will be initiated when the batteries are exhausted or a critical technical problem occurs

Manual Bypass Switch
Failsafe internal automatic bypass switch with manual control to ease of maintenance.


Green Mode Function
The NAET Series switches to bypass when no load is present, but immediately switches back to inverter when the load returns. This feature offers more economical operation when power supply is more reliable without compromising the protection of the load


Easy to Read Visual Display
A simple, clear visual display at the front of the unit gives an immediate indication of system status.


RS 232A simple, clear visual display. The UPS management software is installed on a server or workstation connected to each UPS via the serial port. at the front of the unit gives an immediate indication of system status.

Integrated Smartcard Slot
This allows the user to take advantage of a growing range of add-on cards providing facilities such as SNMP, remote web browser-based management, along with USM, AS 400, and DB9 cards.

Optional Specialized UPS Management Software
Highly manageable power protection for sensitive equipment. Retaining the the legendary reliability of its predecessor, the NAET Series brings high-end features and manageability to even the smallest unit in the NAET range.


Specifications & Model Selection
120 VAC MODELS
Partial Model Name
NAET1500
NAET1600
NAET2200
NAET2400
NAET3000
NAET3200
Topology
True On-Line, Double Conversion
True On-Line, Double Conversion
True Sinewave
Number of Phase
Single (1Phase 2W + G)
Input
Maximum Capacity (VA/W)
1500VA / 1050W
1600VA / 1120W
2200VA / 1540W
2400VA / 1680W
3000VA / 2100W
3200VA / 2240W
Nominal Input Voltage
80 to 138 VAC
160 to 230 VAC
80 to 138 VAC
160 to 276 VAC
80 to 138 VAC
160 to 276 VAC
Input Voltage Range
80 to 138 VAC
160 to 276 VAC
80 to 138 VAC
160 to 276 VAC
80 to 138 VAC
160 to 276 VAC
Nominal input Frequency
50/60 Hz +/- 5 Hz
Input PFC
>0.98 @ full load
Input Short Protection
Circuit Breaker on front of the UPS
Output
Nominal Output Voltage
100/110/115/120VAC
200/208/220/230/240VA
100/110/115/120VAC
200/208/220/230/240VA
100/110/115/120VAC
200/208/220/230/240VA
Output Voltage Regulation
+/-2%
Output T.H.D.
<3% @ LinearLoad
High Efficiency Mode (AC to AC)
>86%
>90%
Crest Factor
3:1
Start on Battery
Yes
Output Frequency
50/60Hz (Autotracking)
Battery
User Repleaceable Battery
1 x 48VDC Battery Pack
96V (2 x 48VDC)Battery Pack
Typical Backup Time (Full/Half Load)
6 / 15 minutes
Battery Type
Sealed VRLA 12V7AH; Hot Swap
Recharge Time to 90%
8 Hours
Extended Battery Cabinet
Extendible Battery Module in 2U high (comprises 2 x 48VDC Battery Packs)
Operation
Transition from or to battery operation is accomplished with no interruption of power to the load. Upon restoration of input power, the UPS will automatically resume normal operation and recharge the battery
Advance Warning Diagnostics
Front Panel Indication
Control panel for all functions
Audible Alarms
DC Mode, Low Battery, voltage / Frequency Error, Charger Fail, Over Load, Fault, PFC Overload
Communication Interface
Communication Port
RS 232 Port (Standard); DB9, AS400, USB Cards (Optional)
SNMP Maneageable
Yes
Environmental
Temperature (Operation/Storage)
0 ºC to + 40 ºC / -15 to + 50 ºC
Relative Humidity
0% to 95% non-condensing
Altitude
Up to 10,000 ft (3,000 meters) at up to 40 ºC, without derating
Audible Noise
<45 dBA @ 1 meter
Mechanical
Dimensions – (WxHxD)
150 x 450 x 265 (mm)
5.9 x 17.7 x 10.4 (in)
193 x 455 x 323 (mm)
7.6 x 17.9 x 12.7 (in)
193 x 485 x 323 (mm)
7.6 x 19.1 x 12.7 (in)
Weight (Incl. Batery Packs)
42 lb 12 / 19 Kgs
67.2 lb / 30.5 Kgs
83.2 lb / 38 Kgs
Conformance
EMI/RFI Compatibility
FCC Part 15 Class B, EN50091-2 Class B, EN55022B, IEC/EN61000-3-2(Harmonic Current)
Safety
UL, cUL (CSA)