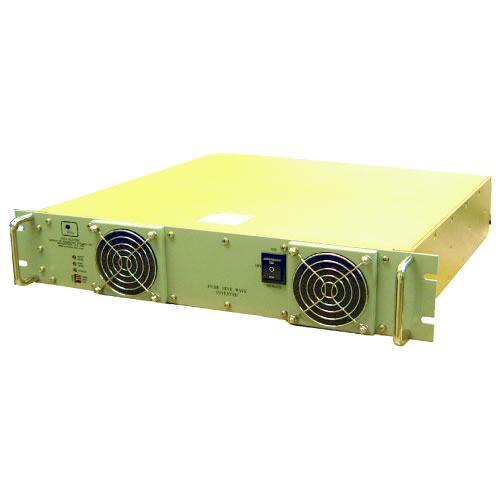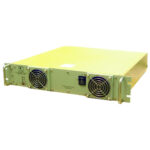 RCGL Series 24 VDC Nominal 2 KW Pure Sine Wave DC-AC Inverters
Microprocessor based design with absolutely accurate and stable frequency.
Panel LED's for battery voltage & load level.
Compact and light weight, yet rugged and vehicle rated.
93-95% efficient.
Tightly regulated output voltage and frequency
Switch selectable 50 or 60 Hz output.
Capable of driving highly reactive loads such as electric tools and appliances.
Capable of driving highly capacitive loads such as switching power supplies.
Very low harmonic distortion, THD<3%.
Suitable for vehicle mounting.
Switch selectable ±10V output change.
Load Controlled Cooling fan.
Compare
Compare
Description
Models
Specifications
Data Sheets
Description
The RCGL2K (pure sine wave) 2kW rack mount inverters are intended form commercial, industrial or military applications wherever standard utility-like power is needed at 50 or 60 Hz. These 2kW, rugged, rack mount inverters are ideal for running electronic loads such as computers, monitors, printers, telecom systems, radios, fluorescent lamps from batteries, field generators, and solar electro-voltaic panels. They can also drive hand drills, motors and small compressors. This unit can be ruggedized against shock, vibration and humidity optionally for mobile applications.
Model Selection
| MODEL | INPUT RANGE VDC | OUTPUT VAC | OUTPUT FREQ. (HZ) | CONT. OUTPUT POWER | APPROX. WEIGHT (LB) | SIZE IN. (HXWXL) | OUTLINE DRAWING |
| --- | --- | --- | --- | --- | --- | --- | --- |
| RCGL2K-24-120 | 21-30 VDC | 120 | 50 or 60 | 2 KW | 29 | 3.5x19x16.5 | |
| MODEL | INPUT RANGE VDC | OUTPUT VAC | OUTPUT FREQ. (HZ) | CONT. OUTPUT POWER | APPROX. WEIGHT (LB) | SIZE IN. (HXWXL) | OUTLINE DRAWING |
| --- | --- | --- | --- | --- | --- | --- | --- |
| RCGL2K-24-220 | 21-30 VDC | 220 | 50 or 60 | 2 KW | 29 | 3.5x19x16.5 | |
Input Voltage: 24V
Output Voltage 110V model: 100/110/120 VAC
Output Voltage 220V model: 220/230/240 VAC
Output Frequency: 50 or 60 HZ User Selectable ± 0.05% Accuracy
Continuous Power Rating: 2000W
Surge Rating: 4000W
Efficiency (full load): 120V model 92%
Efficiency (full load): 220V model 94%
No load Current: <1.0W Sleep Mode
Output Waveform Sinewave: <3% THD
Output Regulation: ±3%
Protection: Overload, Short Circuit, Reverse Polarity (Fuse), O.T, Over/Under Input Voltage.
Operating Temperature: -20° to +50°C
Storage Temperature: -40°C to + 71°C
MTBF: Over 100,000 hours per field data
MTTR: 30 minutes
Shock: 20g / 11mS per MIL-STD-810
Vibration: per MIL-STD-810
Humidity: per MIL-STD-810 to 95% non condensing
EMI: per MIL-STD-461 CE102, CS101, CS114, CS115, CS116, RE102, and RS103
Size: 3.50 "H x 19″W x 16.5″L
Weight: 29 lb
Typical RCGL Inverter with optional IP32 Weatherproofing Package
[/twocol_one] [twocol_one_last]
[/twocol_one_last]
SYSTEM COMPLIANCE
This unit is currently in use on military vehicle and shipboard applications worldwide, and has been formally qualified to:
MIL-STD-461E: CE102, CS101, CS114, CS115, CS116, RE102, and RS103
MIL-STD-810F: Environmental Engineering Considerations and Laboratory Tests
Low Pressure (Altitude) – Method 500.4, Procedure I (Storage/Air Transport) and Procedure II (Operation/Air Carriage)
High Temperature Method 501.4, Procedure I (Storage) and Procedure II (Operation)
Low Temperature Method 502.4, Procedure I (Storage) and Procedure II (Operation)
Temperature Shock Method 503.4, Procedure II (Cyclic)
Shock Method 516.5, Procedure VI (Bench Handling)
Vibration Method 514.5, Procedure I (General Vibration)
Humidity Method 507.4
Sand and Dust Method 510.4, Procedure I (Blowing Dust)