Posted by:

tech support
Comments:

0
Post Date:
August 8, 2017
---
POWER DISTRIBUTION UNITS
tech support
Passive and Active PDU's Facilitate Power Distribution on Board of Aircraft and Navy Ships
PASSIVE PDU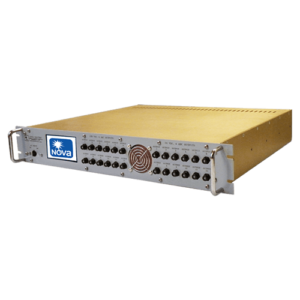 Nova Electric announced the formation of a facility dedicated to the design and manufacturing of Rack Mountable passive and active 1U, 2U and 3U PDU's made per customer requirements to suit specific system configurations. These platforms accept DC or AC input from central power supplies and divide it to multiple branches to feed various loads. Each branch has its own circuit breaker and connector or outlet. A source of 28 VDC up to 10 KW can feed multiple PDU's which distribute protected power to 20 or more loads on the plane, ship or ground station.
The same is possible with a central AC source (Inverter or Frequency Converter) feeding multiple load branches with individual protection to each branch.
ACTIVE PDU
Active PDU's provide substantially more capabilities than channeling power to the loads. Such platforms are rather sophisticated devices which contain control and monitoring of each load in terms voltage and current. They offer ON/OFF control capability as well. An active a DC or AC PDU may offer the central controller of craft the ability to remove current flow from loads or limit the current electronically to them. It can also set the voltage to each branch. This can be done remotely via internet, SNMP, RS232. RS485, CANBUS or any standard communication platform.
Active PDU's allow control and monitoring from the front panel via keypad or touchscreen. These type of PDU's contain microprocessor circuitry which respond to commands, perform measurements as well as divert power to branches that need extra power occasionally. By use of semiconductor power device, relays, sensors and transformers, these PDU's are reporting at all times the consumption of each branch.
Nova line of PDU's now span the range of 1U to 3U, but being that they are made to customer requirements, there is no limit to their size or functions.
All of the Nova PDU's are made to comply with avionic or shipboard military standards for Power quality, EMI or environmental specifications. As such compliance to DO-160 or MIL-
STD-810 are the most common guiding standards.
For further information please fill the form below or call Mr. Howard Schrier at Nova Electric at (201) 385-0500 ext. 128.
Please fill in your name,email address and a short message with any inquires. We will get back to you as soon as possible.