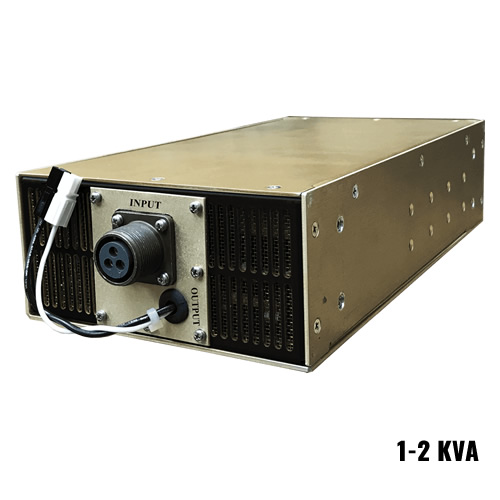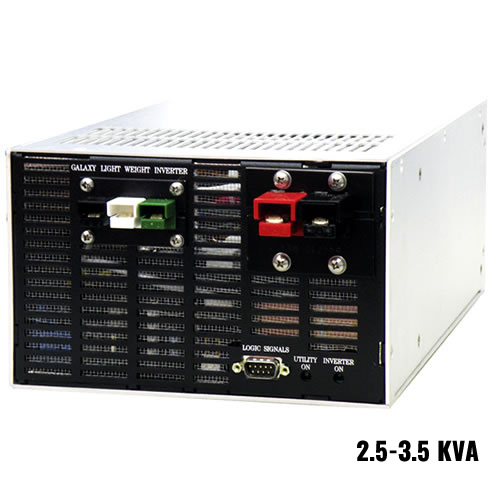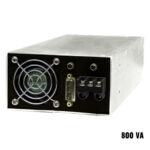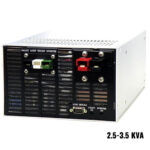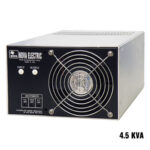 NGFCPFC Series 800VA – 4500VA Modular Frequency Converters
Crystal Controlled Frequency
Compact and light weight, yet rugged and vehicle rated.
86-88% efficient.
Tightly regulated output voltage and freq.
Able to supply inrush current.
Factory set to 50 Hz, 60 Hz, or 400Hz output.
Capable of driving highly reactive loads such as motors and AC.
Capable of driving highly capacitive loads such as non PFC switching power supplies.
Input Active Power Factor Correction
Very low harmonic distortion, THD<3%.
Suitable for vehicle mounting.
Fan cooled with air filter.
Can be configured for 3Ø output.
Compare
Compare
Description
Models
Specifications
Popular Options
Videos
Data Sheets
Description
General Overview
The NGFCPFC Series Solid State Modular Frequency Converters are intended for industrial or military applications wherever standard generator or utility-like power is needed at 50 Hz, 60 Hz, or 400 Hz. These frequency converters are intended for running electronic loads such as computers, monitors, printers, communications systems, radios, and more from 115V or 230V.
These units can be ruggedized against shock, vibration and humidity to meet demanding military environmental standards such as MIL-STD-810 and MIL-STD-167. Additional filtering is available optionally to meet MIL-STD-461. Utilizing field proven technology, this family of rugged pure sinewave AC-AC frequency converters is suitable for harsh environments such as:
Military Shelters
Ground Support
Mobile Systems
Tactical Systems
Ship Applications
Submarines
Aircraft
UAVs
Military Vehicles
Communications
PARTIAL 60 Hz OUTPUT MODEL SELECTION - (400 HZ INPUT OPTIONAL)
MODEL
KW / KVA
INPUT VAC
INPUT FREQ. (Hz)
OUTPUT VAC
OUPUT FREQ. (Hz)
WEIGHT (Lb / Kg)
DIMENSIONS (in / cm)
OUTLINE DRAWING
NGFCPFC0.8K60-120/240A-120
640 W / 800 VA
120-240 VAC
50/60 Hz
120 VAC
60 Hz
2.4 lb / 1.10 kg
2.60" x 5.00" x 10.00"
[ 66 x 127 x 254 ]
QUOTE
NGFCPFC1K60-120/240A-120
800 W / 1 KVA
120-240 VAC
50/60 Hz
120 VAC
60 Hz
5 lb / 2.27 kg
3.00" x 6.30" x 12.25"
[ 127 x 203 x 318 ]
QUOTE
NGFCPFC2K60-120/240A-120
1.6 KW / 2 KVA
120-240 VAC
50/60 Hz
120 VAC
60 Hz
7.5 lb / 3.40 kg
3.00" x 6.30" x 12.25"
[ 127 x 203 x 318 ]
QUOTE
NGFCPFC2.5K60-120/240A-120
2 KW / 2.5 KVA
120-240 VAC
50/60 Hz
120 VAC
60 Hz
14 lb / 6.40 kg
5.00" x 8.00" x 12.50"
[ 127 x 203 x 318 ]
QUOTE
NGFCPFC3.5K60-120/240A-120
2.8 KW / 3.5 KVA
120-240 VAC
50/60 Hz
120 VAC
60 Hz
16.3 lb / 7.40 kg
5.00" x 8.00" x 12.50"
[ 127 x 203 x 318 ]
QUOTE
NGFCPFC4.5K60-120/240A-120
3.6 KW / 4.5 KVA
120-240 VAC
50/60 Hz
120 VAC
60 Hz
17.5 lb / 7.95 kg
5.00" x 8.00" x 12.50"
[ 127 x 203 x 318 ]
QUOTE
PARTIAL 50 Hz OUTPUT MODEL SELECTION - (400 HZ INPUT OPTIONAL)
MODEL
KW / KVA
INPUT VAC
INPUT FREQ. (Hz)
OUTPUT VAC
OUPUT FREQ. (Hz)
WEIGHT (Lb / Kg)
DIMENSIONS (in / cm)
OUTLINE DRAWING
NGFCPFC0.8K50-
120/240A-230
640 W / 800 VA
120-240 VAC
50/60 Hz
230 VAC
50 Hz
2.4 lb / 1.10 kg
2.60" x 5.00" x 10.00"
[ 66 x 127 x 254 ]
QUOTE
NGFCPFC1K50-
120/240A-230
800 W / 1 KVA
120-240 VAC
50/60 Hz
230 VAC
50 Hz
5 lb / 2.27 kg
3.00" x 6.30" x 12.25"
[ 127 x 203 x 318 ]
QUOTE
NGFCPFC2K50-
120/240A-230
1.6 KW / 2 KVA
120-240 VAC
50/60 Hz
230 VAC
50 Hz
7.5 lb / 3.40 kg
3.00" x 6.30" x 12.25"
[ 127 x 203 x 318 ]
QUOTE
NGFCPFC2.5K50-
120/240A-230
2 KW / 2.5 KVA
120-240 VAC
50/60 Hz
230 VAC
50 Hz
14 lb / 6.40 kg
5.00" x 8.00" x 12.50"
[ 127 x 203 x 318 ]
QUOTE
NGFCPFC3.5K50-
120/240A-230
2.8 KW / 3.5 KVA
120-240 VAC
50/60 Hz
230 VAC
50 Hz
16.3 lb / 7.40 kg
5.00" x 8.00" x 12.50"
[ 127 x 203 x 318 ]
QUOTE
NGFCPFC4.5K50-
120/240A-230
3.6 KW / 4.5 KVA
120-240 VAC
50/60 Hz
230 VAC
50 Hz
17.5 lb / 7.95 kg
5.00" x 8.00" x 12.50"
[ 127 x 203 x 318 ]
QUOTE
PARTIAL 400 Hz OUTPUT MODEL SELECTION
MODEL
KW / KVA
INPUT VAC
INPUT FREQ. (Hz)
OUTPUT VAC
OUPUT FREQ. (Hz)
WEIGHT (Lb / Kg)
DIMENSIONS (in / cm)
OUTLINE DRAWING
NGFCPFC0.8K400-
120/240A-115
640 W / 800 VA
120-240 VAC
50/60 Hz
115 VAC
400 Hz
2.4 lb / 1.10 kg
2.60" x 5.00" x 10.00"
[ 66 x 127 x 254 ]
QUOTE
NGFCPFC1K400-
120/240A-115
800 W / 1 KVA
120-240 VAC
50/60 Hz
115 VAC
400 Hz
5 lb / 2.27 kg
3.00" x 6.30" x 12.25"
[ 127 x 203 x 318 ]
QUOTE
NGFCPFC2K400-
120/240A-115
1.6 KW / 2 KVA
120-240 VAC
50/60 Hz
115 VAC
400 Hz
7.5 lb / 3.40 kg
3.00" x 6.30" x 12.25"
[ 127 x 203 x 318 ]
QUOTE
NGFCPFC2.5K400-
120/240A-115
2 KW / 2.5 KVA
120-240 VAC
50/60 Hz
115 VAC
400 Hz
14 lb / 6.40 kg
5.00" x 8.00" x 12.50"
[ 127 x 203 x 318 ]
QUOTE
NGFCPFC3.5K400-
120/240A-115
2.8 KW / 3.5 KVA
120-240 VAC
50/60 Hz
115 VAC
400 Hz
16.3 lb / 7.40 kg
5.00" x 8.00" x 12.50"
[ 127 x 203 x 318 ]
QUOTE
NGFCPFC4.5K400-
120/240A-115
3.6 KW / 4.5 KVA
120-240 VAC
50/60 Hz
115 VAC
400 Hz
17.5 lb / 7.95 kg
5.00" x 8.00" x 12.50"
[ 127 x 203 x 318 ]
QUOTE
ELECTRICAL
Input Voltage (select): See Model Table
Output Voltage (select): See Model Table
Output Frequency: 50 Hz ,60 Hz or 400 Hz
Overload: 125% for 5 minutes
Output Waveform Sinewave: <3% THD
Output Regulation: ± 2.5%
MTBF: over 100,000 hours per field data
MTTR: 30 minutes
PROTECTIVE FEATURES
Overload
Overvoltage
Overtemperature
ENVIRONMENTAL
Operating Temperature: -20°C to +50°C
Storage Temperature: -40°C to + 71°C
Shock: 20g / 11mS per MIL-STD-810
Vibration: per MIL-STD-810 Surface Vehicle or MIL-STD-167 Shipboard
Humidity: per MIL-STD-810 to 95% non condensing
EMI: per MIL-STD-461 (may require additional internal or external filtering – specify requirements)
OPTIONS
Ruggedization against high shock, vibration and humidity
MS connector mates
19″ Rack Mounting Kit
Wall Mount Plate
Custom enclosures