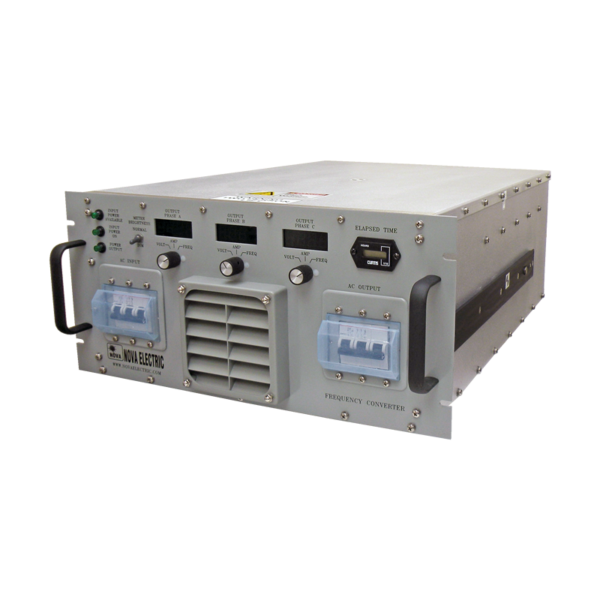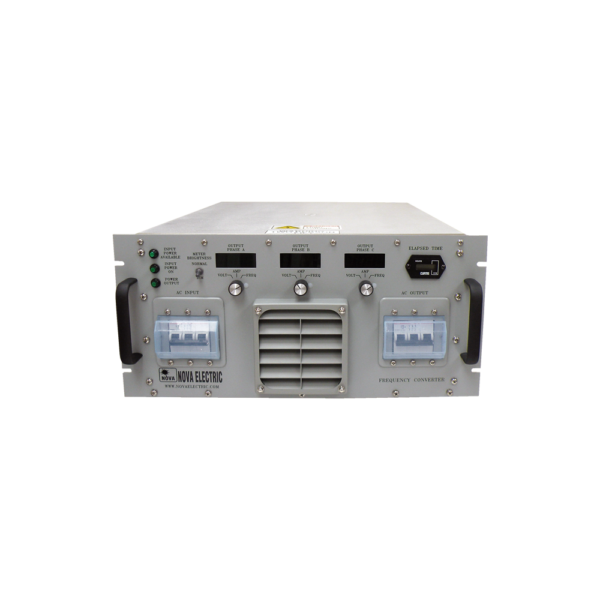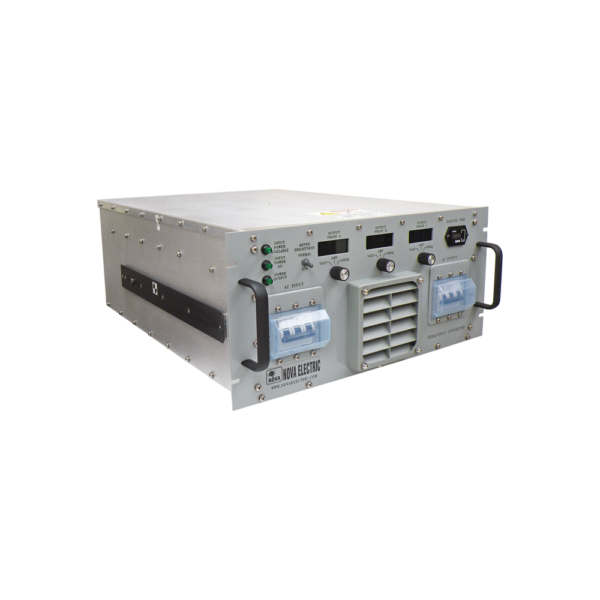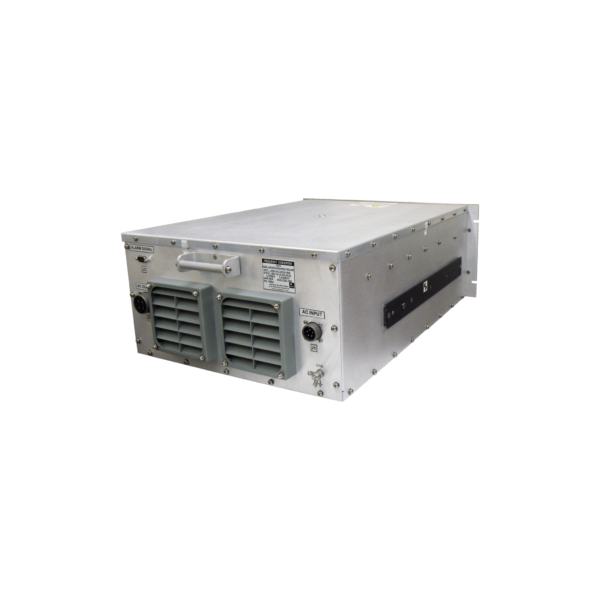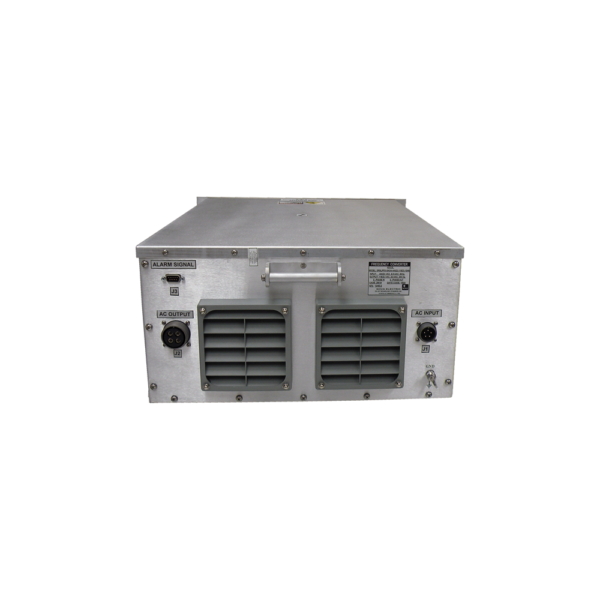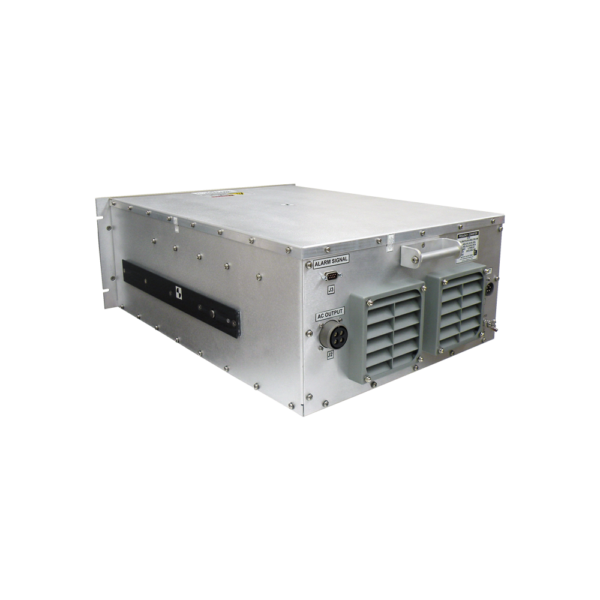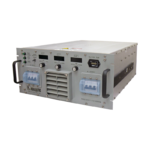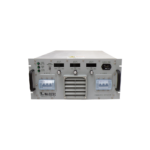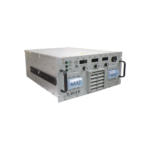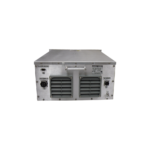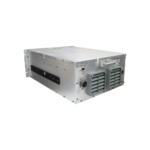 Model GRSLPFC4.5K3/4-440(3)-115(3) 4.5 KW Rugged Rack Mount Solid-State 440 VAC Three Phase Frequency Converter
Formally Qualified to MIL-STD-1399, MIL-STD-461, MIL-S-901, and MIL-STD-167
Built To Meet MIL-STD-810 Environmental Standards
Shipboard 440 VAC, 60 Hz, Three-Phase Delta Power Factor Corrected Input
115 VAC, 400 Hz, Three-Phase Delta Output
Compact, Rack Mount 5U IP54-Rated Chassis
Ultra Lightweight Design
Military Applications: Including Shipboard, Submarine, HMMWV, UAV, Aircraft, Mobile Power Units, Shelters, Transportable Systems, Tactical Systems, Ground Support, and more
Compare
Compare
Description
Models
Specifications
Popular Options
System Compliance
Videos
Data Sheets
Description
Nova's GRSLPFC4.5K3/4-440(3)-115(3) Solid-State Three-Phase Frequency Converter Systems are high-reliability power sources specifically designed for demanding applications in high shock, vibration, humidity, and EMI environments in compliance to MIL-STD-1399, MIL-STD-461, MIL-S-901, MIL-STD-167, and MIL-STD-810.
This unit's compact IP54-rated rack mount chassis measures 5U high x 19" wide x 24" deep, and weighs only 75 pounds. It features a shipboard power input of 440 VAC 60 Hz three-phase delta, and an output of 115 VAC, 400 hz three phase delta. Other voltages and frequencies are available optionally. Flexible design architecture allows this unit to be tailored to many different types of applications, including:
Military Applications: Including Shipboard, Submarine, Aircraft, Mobile Power Units, Shelters, Transportable Systems, Tactical Systems, Ground Support, and more
Heavy-Duty Industrial Applications
Demanding Commercial Applications
Communications Systems
A multitude of options are available, including various connector types, chassis slides, and custom alarms.
Nova Electric's Frequency Converters are deployed in countless high profile military programs aboard Naval ships and submarines, on satellite trailers and mobile shelters, and military ground vehicles and aircraft, with a field-proven MTBF exceeding 100,000 hours. These units are the first choice for the world's leading defense contractors including Lockheed Martin, Boeing, Raytheon, General Dynamics, DRS, BAE, all branches of the US Armed Forces, and US allied forces worldwide. Please contact us today for more information.
60 Hz Input / 400 Hz Output Three-Phase Model

| MODEL | KVA | KW | NOMINAL INPUT | INPUT FREQ. | OUTPUT VAC | OUTPUT FREQ. | WEIGHT (LBS) | HEIGHT | OUTLINE DRAWING | VIDEO | |
| --- | --- | --- | --- | --- | --- | --- | --- | --- | --- | --- | --- |
| GRSLPFC4.5K3/4-440(3)-115(3) | 4.5 | 4.5 | 440 VAC Delta | 60 Hz | 115 VAC Delta | 400 Hz | 75 | 5U | | | QUOTE |
Other voltages and frequencies are available optionally – consult factory for details.
ELECTRICAL
Input: 440 VAC, 60 Hz, Three Phase Delta per MIL-STD-1399, Section 300B, Type 1
(other voltages and frequencies available optionally upon request)
Output: 115 VAC, 400 Hz, Three Phase Delta @ 4.5 KW
(other voltages and frequencies available optionally upon request)
Voltage Regulation: ± 2% NL to FL
Frequency Regulation: ± 0.5% NL to FL
Harmonic Distortion: 5% THD, 3% typical
Input Power Factor: 0.95 or Better @ half-full load
Efficiency at full load: 80-85% @ full load typical
Connections: MS Connector (mates opt.)
Overload:
110% load for 10 minutes
115% load for 5 minutes
120% load for 2 minutes
 NOMINAL DIMENSIONS
Dimensions:
5U x 19″ Wide x 24″ Deep
Weight:
75 Pounds
PROTECTIVE FEATURES
Input Circuit Breaker
Output Circuit Breaker
Overload Protection Range: Automatic overload & short circuit protection
Thermal Protected
Input Under/Overvoltage Protected
Optional Audible Alarm with Silence Switch
 ENVIRONMENTAL
Operating Temp.: -20° to +50°C (Extended ranges optional)
Storage temperature range: -40° to +71°C
Humidity: to 95% RH non-condensing per MIL-STD-810. All boards conformal coated with Acrylic MIL-I-46058 Type R.
Elevation:
15,000 Ft. (4,572m) operating
40,000 ft. (12,192m) non-operating
Shock: 20g, 11 mS half sinewave per MIL-S-901
Audible Noise: Less than 55 dbA at 5 ft.
EMI: MIL-STD-461
MTBF: 100,000+ hours per field data @ +25C Ambient Ground-Fixed
MTTR: 30 minutes by qualified personnel
 REMOTE CONTACTS
Alarm Contacts (Optional)
 INDICATORS
Input Power Available LED
Input Power On LED
Power Output LED
Digital Output (Per Phase) Meters with Volt, Amp, and Frequency Selector Switch
Elapsed Time Meter
Alternate voltages and frequencies
Delta or Wye Three Phase Configuration
MS Connector Mates and Multiple Output Outlets
Input Volt and Amp Meters
Chassis Slide Guides
Custom Enclosures
CAD Free Connectors
Non-PVC wiring
The GRSLPFC4.5K3/4-440(D)-115(D) Rugged Rack Mount Solid-State Three Phase Frequency Converter was formally tested and qualified as follows:
MIL-STD-1399, Section 300B Input Power Test:
5.3.1 Voltage and Frequency Tolerance Test
5.3.2 Transient Voltage and Frequency Tolerance and Recovery Test
5.3.3 Voltage Spike Test
5.3.4 Emergency Condition Test
5.3.5 Grounding Test
5.3.6 User Equipment Power Profile Test w/Exceptions
5.3.7 Current Waveform Test
5.3.8 Voltage and Frequency Modulation Test
5.3.9 Simulated Human Body Leakage Current Test for Personnel Safety w/Exceptions
5.3.10 Equipment Insulation Resistance Test
5.3.10 Active Ground Detector Test
MIL-STD-167-1A Vibration Test: The Frequency Converter was subjected to Type I vibration through the frequency range of 4 Hz to 33 Hz in each of the three (3) major axis in accordance with MIL-STD-167-1A.
MIL-S-901D Shock Test: The Frequency Converter was subjected to three (3) positive and three (3) negative 20 g, 11 msec, ½ Sine Wave shock pulses in each of the three (3) axes in accordance with the referenced MIL-S-901D specifications (Grade A) for a total of eighteen (18) shock pulses.
MIL-STD-461E EMI Test (Navy, Submarine Application):
CE101, Conducted Emissions, Power Leads, 120 Hz to 10 kHz
Limit: Figure CE101-2, Limit for Surface Ships and Submarine Applications, 60 Hz
CE102, Conducted Emissions, Power Leads, 10 kHz to 10 MHz
Figure CE102-1, CE102 Limit for All Applications, Basic Curve + 12 dB w/Exceptions.
CS101, Conducted Susceptibility, Power Leads, 120 Hz to 150 kHz
Figure CS101-1, CS101 Voltage Limit for All Applications, Curve # 1
CS106, Conducted Susceptibility, Transients, Power Leads
Limit: Figure CS106-1, CS106 Voltage Limit
CS114, Conducted Susceptibility, Bulk Cable Injection, 10 kHz to 200 MHz
Limit: Figure CS114-1, CS114 Calibration Limits
4 kHz to 1 MHz, 77 dBuA
10 kHz to 30 MHz, Curve # 1
30 MHZ to 200 MHz, Curve # 2
RE101, Radiated Emissions, Magnetic Field, 30 Hz to 100 kHz
Limit: Figure RE101-2, RE101 Limit for Navy Applications w/Exceptions.
RE102, Radiated Emissions, Electric Field, 10 kHz to 18 GHz
Limit: Figure RE102-2, RE102 Limit for Submarine Applications, Internal to Pressure Hull
RS103, Radiated Susceptibility, Electric Field, 2 MHz to 18 GHz
Field Strength:
2 to 30 MHz: 5 V/m
30 MHz to 18 GHz: 10 V/m
Modulation: 1 kHz pulse, 50% duty cycle
Environmental – Designed to Meet*:
MIL-STD-810G, Method 501.5, Procedure II. TH=+45C high temperature (operating) testing
MIL-STD-810G, Method 502.5, Procedure II. TL=+5C low temperature (operating) testing
MIL-STD-810G, Method 507, Procedure II. <95% Non-Condensed Relative Humidity (operating / non-operating)
Ambient Operating Pressure between 750  and 1200 millibars.
Ingress Protection per IP54.
Operating Attitude for both Front to Back and Side to Side of  +/- 30 degrees.
Audible Noise of 60dBA Maximum.
*Compliance to these "designed to meet" environmental standards based on similarity to previously qualified designs. Formal Qual Testing to these and other standards is available optionally.