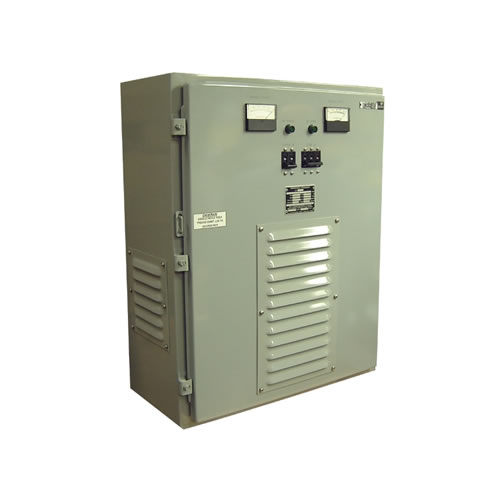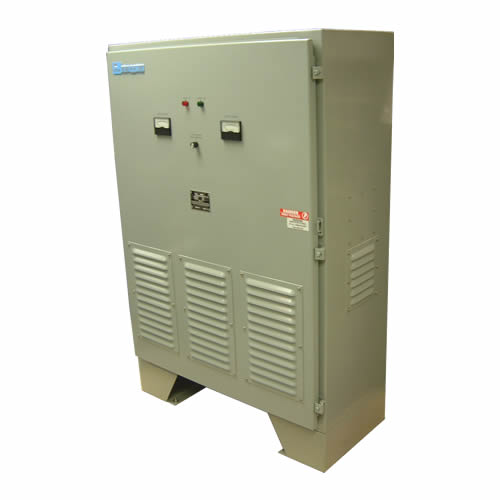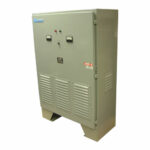 Galaxy Series 600 VDC Nominal Input Pure Sine Wave DC-AC Inverters
 Pure Sinewave Output
Internal Transient Suppression Filter
Network for input voltage transients
High reliability, MTBF exceeds 100,000 hours (field data)
OV, O.L. and O.T. protected
MTTR below 30 minutes; modular design
Withstands high reactive load
Tight voltage and frequency regulation
Boards are conformal coated
Compare
Description
Models
Specifications
Popular Options
Data Sheets
Description
The transformer isolated Galaxy Series inverters are designed for harsh environment, rail, and military applications, and feature an optional advanced Internal Suppression Filter Network (ISFN) to suppress the significant transients usually associated with these types of conditions. These rugged inverters are extremely reliable, designed to provide many years of service in high shock, vibration, humidity, and EMI environments. Utilizing field proven technology, this family of Pure Sinewave DC-AC inverters can be customized for unique applications including:
Work Train Applications: Inverters in various sizes, from 5-20 kVA, are currently utilized by such customers as Amtrack and the MBTA for powering equipment on third rail 450-750 VDC Work Train Applications. Everything from hand tools to lighting run on Nova inverters. Even on-board electric toilets are powered by our inverters!
Trolley Applications: Nova has supplied specialized inverters for many custom Trolley Applications.  In addition to our other custom designs, we have designed and built special inverters modified to accept 900 VDC continuous input at the customer's request. Nova inverters are also used to power lighting on Historic Trolley Systems across the country. The next time you see a restored trolley, remember that the lights are probably powered by Nova!
Subway Applications: Our durable 600 VDC inverters are currently being used by such customers as Chicago Transit Authority and Long Island Railroad for such various applications as providing emergency power from the third rail. Quite often, it is cheaper and more pragmatic to install an inverter in a hut (shed) on a siding than to run AC power from a distant location.
Custom Applications: Nova offers an almost infinite combination of custom cabinets and configurations to satisfy almost any application! Mobile applications, as well as outdoor applications subject to rain, snow, ice, wind, etc. are one of our specialties! Our inverters are extremely rugged by design, and feature an advanced Internal Suppression Filter Network to suppress the significant transients usually associated with these applications.Please don't hesitate to contact the factory for additional information.
Partial Standard Model Selection
(Consult factory for higher power ratings)
60 Hz Models

| 60 Hz Models | Output VAC | Output Freq. (Hz) | Cont. Output Power | Size in.(HxWxL) | Approx. Efficiency | Outline Drawing |
| --- | --- | --- | --- | --- | --- | --- |
| GH1K60-600 | 120 | 60 | 1KVA | 30x24x8 | 90% | |
| GH2K60-600 | 120 | 60 | 2KVA | 30x24x8 | 90% | |
| GH3K60-600 | 120 | 60 | 3KVA | 30x24x12 | 90% | |
| GH5K60-600 | 120 | 60 | 5KVA | 30x24x12 | 90% | |
| GH7.5K60-600 | 120 | 60 | 7.5KVA | 36x36x16 | 90% | |
| GH10K60-600 | 120 | 60 | 10KVA | 36x36x16 | 90% | |
| GH15K60-600 | 120 | 60 | 15KVA | 48x30x16 | 90% | |
| GH20K60-600 | 120 | 60 | 20KVA | 48x30x16 | 90% | |
| GH25K60-600 | 120 | 60 | 25KVA | 54x36x16 | 90% | |
| GH30K60-600 | 120 | 60 | 30KVA | 54x36x16 | 90% | |
| GH35K60-600 | 120 | 60 | 35KVA | 54x36x16 | 90% | |
50 Hz Models

| 50 Hz Models | Output VAC | Output Freq. (Hz) | Cont. Output Power | Size in.(HxWxL) | Approx. Efficiency | Outline Drawing |
| --- | --- | --- | --- | --- | --- | --- |
| GH1K50-600 (220) | 220 | 50 | 1KVA | 30x24x8 | 90% | |
| GH2K50-600 (220) | 220 | 50 | 2KVA | 30x24x8 | 90% | |
| GH3K50-600 (220) | 220 | 50 | 3KVA | 30x24x12 | 90% | |
| GH5K50-600 (220) | 220 | 50 | 5KVA | 30x24x12 | 90% | |
| GH7.5K50-600 (220) | 220 | 50 | 7.5KVA | 36x36x16 | 90% | |
| GH10K50-600 (220) | 220 | 50 | 10KVA | 36x36x16 | 90% | |
| GH15K50-600 (220) | 220 | 50 | 15KVA | 48x30x16 | 90% | |
| GH20K50-600 (220) | 220 | 50 | 20KVA | 48x30x16 | 90% | |
| GH25K50-600 (220) | 220 | 50 | 25KVA | 54x36x16 | 90% | |
| GH30K50-600 (220) | 220 | 50 | 30KVA | 54x36x16 | 90% | |
| GH35K50-600 (220) | 220 | 50 | 35KVA | 54x36x16 | 90% | |
3 Phase Models

| 3 Phase Models* | Output VAC | Output Freq. (Hz) | Cont. Output Power | Size in.(HxWxL) |
| --- | --- | --- | --- | --- |
| GS1.5K3/6-600 (120/208) | 120/208 | 60 | 1.5KVA | C/F |
| GS1.5K3/5-600 (220/380) | 220/380 | 50 | 1.5KVA | C/F |
| GS1.5K3/4-600 (115/200) | 115/200 | 400 | 1.5KVA | C/F |
| GH3K3/6-600 (120/208) | 120/208 | 60 | 3KVA | C/F |
| GH3K3/5-600 (220/380) | 220/280 | 50 | 3KVA | C/F |
| GH3K3/4-600 (115/200) | 115/200 | 400 | 3KVA | C/F |
| GH4.5K3/6-600 (120/208) | 120/208 | 60 | 4.5KVA | C/F |
| GH4.5K3/5-600 (220/380) | 220/380 | 50 | 4.5KVA | C/F |
| GH4.5K3/4-600 (115/200) | 115/200 | 400 | 4.5KVA | C/F |
| GH6K3/6-600 (120/208) | 120/208 | 60 | 6KVA | C/F |
| GH6K3/5-600 (220/380) | 220/380 | 50 | 6KVA | C/F |
| GH6K3/4-600 (115/200) | 115/200 | 400 | 6KVA | C/F |
| GH9K3/6-600 (120/208) | 120/208 | 60 | 9KVA | C/F |
| GH9K3/5-600 (220/380) | 220/380 | 50 | 9KVA | C/F |
| GH9K3/4-600 (115/200) | 115/200 | 400 | 9KVA | C/F |
| GH15K3/6-600 (120/208) | 120/208 | 60 | 15KVA | C/F |
| GH15K3/5-600 (220/380) | 220/380 | 50 | 15KVA | C/F |
| GH15K3/4-600 (115/200) | 115/200 | 400 | 15KVA | C/F |
| GH20K3/6-600 (120/208) | 120/208 | 60 | 20KVA | C/F |
| GH20K3/5-600 (220/380) | 220/380 | 50 | 20KVA | C/F |
| GH20K3/4-600 (115/200) | 115/200 | 400 | 20KVA | C/F |
| GH25K3/6-600 (120/208) | 120/208 | 60 | 25KVA | C/F |
| GH25K3/5-600 (220/380) | 220/380 | 50 | 25KVA | C/F |
| GH25K3/4-600 (115/200) | 115/200 | 400 | 25KVA | C/F |
| GH30K3/6-600 (120/208) | 120/208 | 60 | 30KVA | C/F |
| GH30K3/5-600 (220/380) | 220/380 | 50 | 30KVA | C/F |
| GH30K3/4-600 (115/200) | 115/200 | 400 | 30KVA | C/F |
| GH35K3/6-600 (120/208) | 120/208 | 60 | 35KVA | C/F |
| GH35K3/5-600 (220/380) | 220/380 | 50 | 35KVA | C/F |
| GH35K3/4-600 (115/200) | 115/200 | 400 | 35KVA | C/F |
ELECTRICAL
Input Voltage: 450 – 750 VDC (Extended range available)
Output Voltage: See Table
Frequency: 50 Hz, 60 Hz, 400 Hz (+/-0.5%)
Frequency Regulation: +/-0.5% N.L. to F.L.
Voltage Regulation: +/-1.5% N.L. to F.L.
Efficiency: Approximately 80% (depending on model)
Reactive Load: 0.75 Lead to 0.75 Lag
Distortion: 5% THD, 3% Single Harmonic
Overload: 125% for 5 minutes
Overload Protection Range: Automatic overload & short circuit protection
Sync & Phase Lock Range: +/-3 Hz, Typical (50/60 Hz models)
Transient Response: Approx. 1/4 cycle recovery to 95% of nominal
ENVIRONMENTAL & MECHANICAL
Operating Temp: -20°C to +50°C Standard -40°C to +71°C Optional
Cooling: By internal DC brushless fan
Vibration: Normal shipping and handling
Shock: 20g, 11 mS half sinewave
Humidity: To 95% RH non-condensing
EMI: Designed to meet FCC Part 15, Class A, Can meet MIL-STD-461 with additional filtering
OPTIONS
Ruggedization against high shock, vibration and humidity
MS Connector Mates
Shock Mounts
Floor Mounts
Internal Transfer Switch
High IP Protection for front / rear panels (typically IP32,) including louvers on all intake and exhaust, as well as fully gasketed breakers, switches, and indicators.
Custom Markings