Description
Models
Data Sheets
Description
Nova Electric's NC11-Series UPS utilizes advanced technology that increases performance and reliability. These units use dual high speed DSPs with digital control to ensure high quality power, high input power factor, and low input current distortion. Built in batteries or separate batteries are offered.
Note: Any UPS can be used with larger batteries to obtain higher run times. 75AH, 88AH and 100AH batteries are also available. Consult factory for run times.
[twocol_one]
FRIENDLY USER INTERFACE
LCDs and LEDs accurately display the comprehensive status of the UPS.
UPS parameters can be modified easily according to different site applications via LCD or software.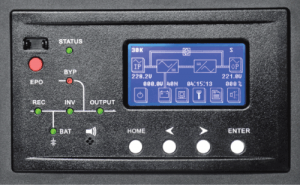 COMPREHENSIVE AND RELIABLE PROTECTION
Self-diagnosis provide a complete UPS check-out at system start-up. Multiple protection circuits provide protection for overload, over temperature, battery over or under voltage, fan failure, and short circuits.
BATTERY RUNTIMES
[table "" not found /]
[/twocol_one]
[twocol_one_last]
INTELLIGENT CHARGING MANAGEMENT
The system intelligently controls the process of the charging and discharging, effectively improving the lifetime of the battery.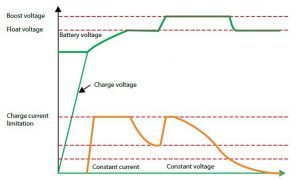 SYSTEM BLOCK DIAGRAM
PROGRAMMABLE DRY CONTACTS
Programmable dry contacts are available in all NC series UPS. Customers can easily expand or modify the definition of each port.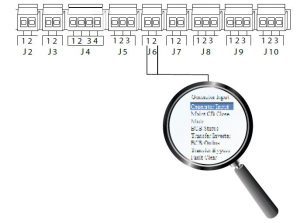 [/twocol_one_last]
MODEL (TYPICAL)
NC11010XS
NC11015XS
NC11020XS
NC11030XS
CAPACITY
10 kVA / 8 kW
15 kVA / 12 kW
20 kVA / 16 kW
30 kVA / 24 kW

INPUT
PHASE
3 Phase + Neutral + Ground, 120/208 VAC (220/380 VAC available)

VOLTAGE RANGE (L-L)
187-261 VAC (line-line), full load;
187-125 VAC (line-line),
load derated linearly to 60%
166-261VAC (line-line), full load;
166-125 VAC (line-line), load derated linearly to 60%

FREQUENCY RANGE
40 Hz – 70 Hz

THD-i
<5% (linear load)
<4% (linear load)

POWER FACTOR
>0.99

OUTPUT
VOLTAGE
120/208 VAC (220/380 VAC available)

VOLTAGE REGULATION
1.5%

THD
<1.5% (linear load), <6% (non-linear load)

POWER FACTOR
0.8

FREQUENCY RANGE
50/60 Hz

FREQUENCY PRECISION
0.1%

OVERLOAD CAPABILITY
110% for 10 min; 125% for 1 min;
150% for 30 s; >150% for 200ms
110% for 60 min; 125% for 10 min;150% for 1 min; >150% for 200ms

BATTERY
VOLTAGE
±120VDC NOMINAL

CHARGE POWER
20% of SYSTEM KW Rating

VOLTAGE PRECISION
± 1%

BATTERY NUMBER*
10kVA: 20pcs or 40pcs 9AH/12VDC; 15-30kVA: 40 or 80pcs 9AH/12VDC

SYSTEM
SYSTEM EFFICIENCY
Normal 93%
94%

Battery 92.5%
93%

DISPLAY/INTERFACE
LCD + LED + Buttons

IP CLASS
IP20
INTERFACE
Standard: RS232, RS485, Dual input kit;
Option: SNMP, Dry contacts, Parallel kit, Battery cold start

TEMPERATURE
OPERATING : 0-40°C (to 50°C with 15% derating) | STORAGE: -20°C to +50°C

RELATIVE HUMIDITY
0-95% (non-condensing

NOISE
58dB @ 100% load,
52dB @ 45% load
(1 meter away)
70dB @ 100% load, 62dB @ 45% load (1 meter away)

PHYSICAL
APPROX. WEIGHT
(EXCLUDING BATTERIES)
113.5 lbs [51.5 kg]
304.2 lbs [138 kg]
308.6 lbs [140 kg]
308.6 lbs [140 kg]

APPROX. DIMENSION (W x D x H)
250 mm x 840 mm x 715 mm
9.84" x 33.07" x 28.15"
500 mm x 840 mm x 1400 mm
19.69" x 33.07" x 55.12"