Description
Models
Data Sheets
Description
Nova Electric's NEDM-Series Modular Online UPS boasts a compact footprint of less than 4.5 m2 with maximum capacity of 900 kVA in parallel, designed to protect any critical load for medium and larger data center. The NEDM30 features state of the art technology and PFC input control, which guarantees high efficiency of 94% and superb reliability, making it an excellent choice for medium and larger facilities.
[hr]
[twocol_one]
FRIENDLY USER INTERFACE
Each power module has an independent LCD which gives users direct overview of status data and alarms in real time.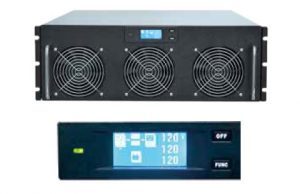 [/twocol_one]
[twocol_one_last]
FRIENDLY INTERFACE
The LCD display accurately communicates the comprehensive status of the UPS to the user. UPS parameters can be modified easily through the 10.4" LCD display.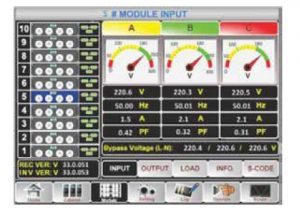 [/twocol_one_last]
COMPREHENSIVE MONITORING MANAGEMENT
In each power module, information of critical components is monitored and displayed in real time.
• Maintenance reminder, running time of capacitors and fans displayed and recorded
• Comprehensive temperature monitoring for thermal abnormal detection
• Intelligent battery charger for long battery life
CRITICAL WAVEFORM RECORDING
UPS can record and save the data of the main parameters automatically when faults happen for further analysis.
• Can record data information and present as waveform for further analysis
• Can easily spot the causes of the failures, to avoid future similar faults

SMART SLEEP
Smart Sleep function can intelligently make some power modules go to sleep when load is relatively low, improving the efficiency of the remaining power modules and reducing power and cooling costs.
• Improving efficiency, reducing power and cooling costs
• Easy setting in just two steps. Customers can select sleep mode and rotation period.
• Power modules working in rotation prolong their lifetime.
SELF-AGING
The self-aging function can test UPS under different load situations without real load, saving more than 90% of the energy usually required.
• Simulate different load conditions without connecting to any real load, saving 90% of energy
• On site setting supported, for easy testing

PROGRAMMABLE DRY CONTACTS
Programmable dry contacts are available in all NEDM, NERM and NC11 series UPS. Customers can easily expand or modify the definition of each port.
• Abundant options with three inputs and four outputs, all programmable
• Easy setting – just pull the drop-down menu and set
• Compatible with all the NEDM, NERML and NC11 series
MODEL (TYPICAL)
NEDM060/30X
NEDM120/30X
NEDM180/30X
NEDM300/30X

CAPACITY
60 kVA
120 kVA
120 kVA
300 kVA

INPUT
PHASE
3 PHASE + NEUTRAL + GROUND, 200 V / 208 V / 220 V (LINE TO LINE)

VOLTAGE RANGE (L-L)
166-120 VAC (LINE-LINE), FULL LOAD; 166-125 VAC (LINE-LINE), LOAD DERATED FROM 100%-75% LINEARLY

FREQUENCY RANGE
40 Hz – 70 Hz

THD-i
<3% (FULL LINEAR LOAD)

POWER FACTOR
>0.99

OUTPUT
VOLTAGE
200 / 208 / 220 VAC (Line to Line)

VOLTAGE REGULATION
± 1.5%

THDu
< 1.5% (LINEAR LOAD), <6% (NON-LINEAR LOAD)

POWER FACTOR
1
FREQUENCY RANGE
50/60 Hz

OVERLOAD CAPABILITY
110% FOR 10 MINS; 125% FOR 1 MIN; >125% FOR 200 ms

BATTERY
VOLTAGE
±120 VDC

RATE FREQUENCY
20% *SYSTEM POWER

VOLTAGE PRECISION
± 1%

SYSTEM
SYSTEM EFFICIENCY
94%

94%

DISPLAY/INTERFACE
Color LCD touch screen + LED + Keyboard

IP CLASS
IP20
INTERFACE
Standard: RS232, RS485, USB, Dry contacts(programmable)
Option: SNMP, AS400, Parallel kit, Battery cold start(standard for 150kVA and above),
Lightning protection components, Dust Filter, LBS

OPERATION STORAGE
0 – 95% (non-condensing)

RELATIVE HUMIDITY
0-95% (non-condensing

NOISE
68 dB @ 100% LOAD, 65 dB @ 45% LOAD
72 dB @100% LOAD, 69 dB @ 45% LOAD

PHYSICAL
WEIGHT
463 Lb. (210 Kg)
772 Lb. (350 Kg)
1080 Lb. (490 Kg)
1984 Lb. (900 Kg)

DIMENSIONS
23.62" x 38.58" x 45.28"
600 mm x 980 mm x 1150 mm
25.59" x 38.58" x 45.28"
650 mm x 960 mm x 1600 mm
23.62" x 37.80" x 78.74"
650 mm x 960 mm x 2000 mm
51.18" x 43.31" x 78.74"
1300 mm x 1100 mm x 2000 mm