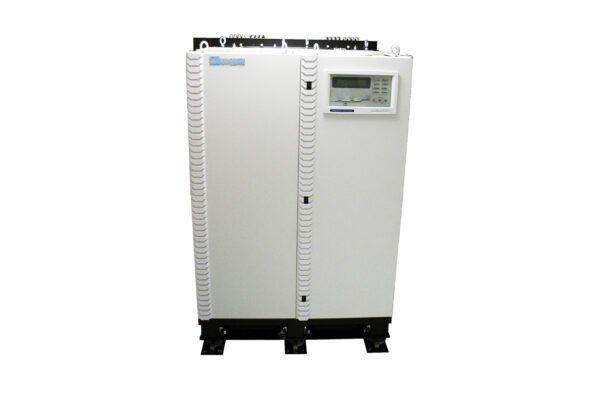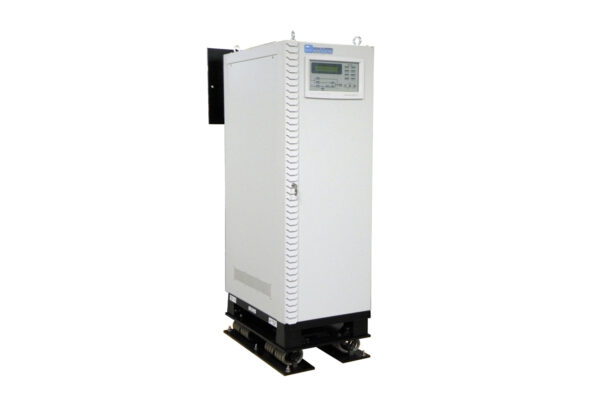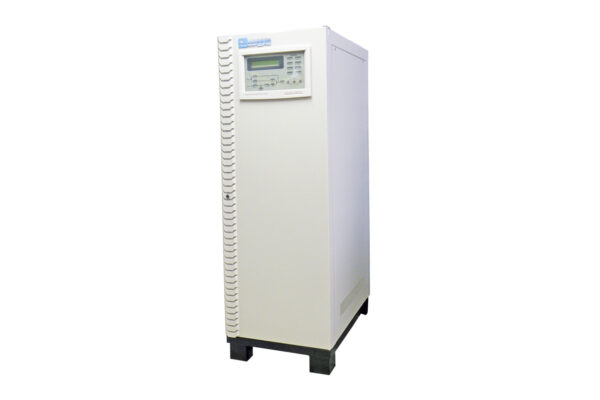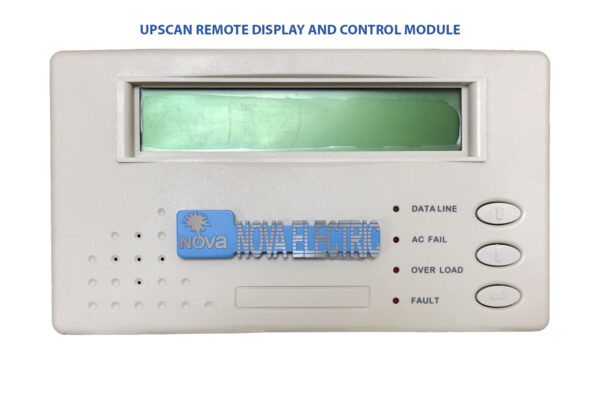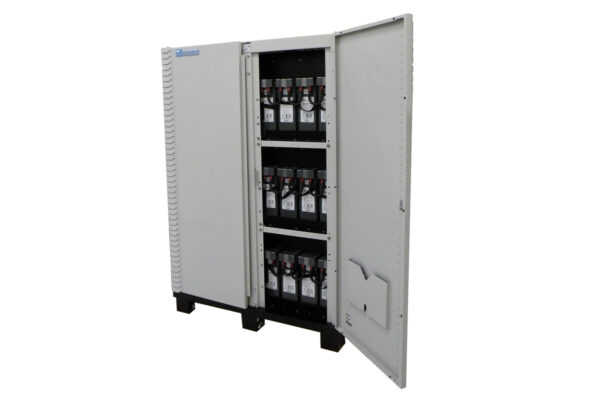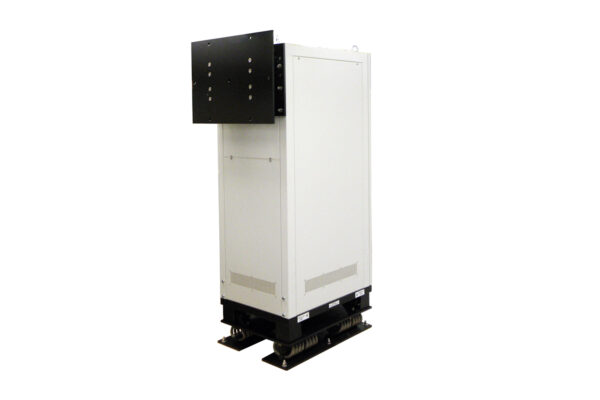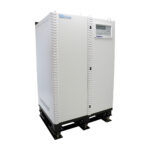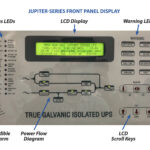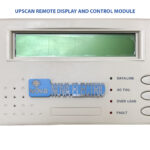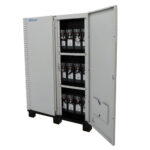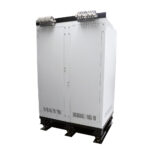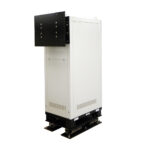 Jupiter Series 10-450+ KVA True Online UPS Systems
Complete input to output Galvanic Isolation.
High frequency (almost silent) operation
Push button starting and stopping
Diagnostic panel with LCD and LED display
Soft start on inverter
Overload & and short circuit protection on charger and inverter
Maintenance free batteries
True Online operation
Solid state transfer switch standard at no additional charge
Maintenance bypass switch standard at no additional charge
All electronics are built in modular front-access cabinets and have front removable subassemblies for easy service and maintenance
Batteries may be built into units up to 20KVA
Automatic dual rate battery charger (float charge and boost charge)
FCC class A approved
Remote isolated dry relay contacts
Available options to meet military specs
Compare
Description
Models
Specifications
Popular Options
System Compliance
Videos
Data Sheets
Description
Nova's Jupiter-Series UPS Systems are high-reliability power sources specifically designed for demanding commercial, heavy industrial, and military applications. They can be built to meet MIL-STD-810, MIL-S-901, MIL-STD-167, MIL-STD-461, and other standards optionally. Standard models are three-phase input and output, and single-phase configurations are available upon request. Specialty frequencies including 400 Hz for aircraft are available upon request as well. These models utilize True On-Line technology and the most durable components, offering maximum field-proven reliability for severe environment and high reliability applications such as:
Military Applications: Including Shipboard, Submarine, Aircraft, Mobile Power Units, Shelters, Transportable Systems, Tactical Systems, Ground Support, and more
Heavy-Duty Industrial Applications
Demanding Commercial Applications
Communications Systems
MIL-STD-810
MIL-STD-461
MIL-S-901
MIL-STD-167
Standard Model Selection
(All Popular Input/Output Voltages and Frequencies are Available)
60 Hz Models

50 Hz Models

Specifications for the Nova Electric Jupiter-Series Three-Phase True Online UPS Series
PHASE
3-Phase Input / 3-Phase Output
KVA
10
20
30
40
50
60
80
100
120
160
240
300/320
Input Rectifier
Input Voltage (VAC)
Please Specify 120/208, 220/380,230/400, 240/415, 277/480, 220 3-Phase delta 240 3-Phase delta, 380 3-Phase delta 480 3-Phase delta
Input Range
+/- 20% (>

+

20% is available upon request)
Input Frequency
50/ 60

+

5Hz
Power Walk In
0% – 100% :20 sec
Voltage Regulation
+/- 1%
Efficiency
98%
Rectification Type
6 Pulse Standard, 12 Pulse Optional
12 Pulse Standard
Battery
Battery Type
Maintenance free lead-acid batteries/ 12V x 29pcs. (348 VDC Nominal)
Maximum Charge Current(Adc Selectable)LO,MED,HI
4
8
12
16
25
26
32
45
50
65
100
130
Battery Start
Yes, UPS can be started without AC source.
Inverter
Output Voltage (VAC)
Please Specify 120/208, 220/380, 230/400, 240/415, 277/480, 220 3-Phase delta 240 3-Phase delta 380 3-Phase delta 480 3-Phase delta
Wave Form
Sinewave
Output Power Factor
0.8
Frequency Lock Range
50 / 60 Hz +/- 3 Hz
Output Frequency (Free Running)
50 / 60 Hz +0.1 Hz (crystal controlled)
Output Frequency (free running)
0.7 lead to lag
Phase Shift Under 100% Unbalanced Load
<0.5%

THD (Linear Load)

< 2%
Overload
<110%
Continuous
>110-125%
Up to 15 minutes
>125-150%
Up to 5 minutes
>150-170%
Up to 30 seconds
>170-200%
Up to 15 seconds
Efficiency (100% Load)
93%
93%
93%
93.5%
93.5%
94%
94.5%
94.5%
95%
95%
95%
95%
STATIC SWITCH
Voltage Range
Same as Main Rectifier Input.(Different voltages are available upon request)
Mains <-> Inverter
0 ms (True Online)
Overload
As per inverter rating plus >200% to 300% = 1 second
OVERALL CHARACTERISTICS
Overall Efficiency
91%
91%
91%
91.5%
92%
92%
92.5%
92.5%
93%
93%
93%
93%
Maximum Heat Dissipation (kw)
0.7
1.4
1.9
2.6
3
3.5
4.6
5.4
6.5
8.7
13
17.4
BTU/h @ Full Load
2.4K
4.8K
6.5K
8.9K
10.3K
12K
16K
19K
22K
30K
45K
60K
Audible Noise
<65 dBA (at 1m)
<67dBA (at 1m)
Temperature
0-40ºC (32-104ºF)(Other ranges available)
Humidity
0%-95% (Non-condensing)
Altitude
<1500 m Above Sea Level
MTTR
Less Than 30 minutes
IEC 62040-2
Yes for 220/380VAC 50Hz Models
No
EN50091-1, -2
Yes
Short Circuit Protection
Yes
MTBF
As per MIL-HDBK-217: 30,000 Hours
As per Field Experience >100,000 Hours for loss of AC Output
Lightning / EMC Filter
MOV / Input & Output ( FCC Class A)
Galvanic Isolation
Input and Output True Galvanic Isolation
LED, LCD, Audible Alarm
Yes
Remote Control/ Communication Interface
Monitoring 1~99
Units simultaneously / Dry Contact, RS-232, RS-485 (Optional)
MONITORING FEATURES
The unit includes an RS232 communication option called UPSCOM which can monitor the output parameters and any abnormal conditions that have occurred in real time.
FRONT PANEL LCD DISPLAY AND LED INDICATORS
This will report all UPS parameters including input and output voltages, currents, frequency, battery voltage, battery current, and many other functions.
LCD DISPLAY
Real time status, data, and historical events are displayed via the LCD display. The UPS parameters, real-time clock, inverter, and buzzer can also be set through this LCD, which is backlit by LEDs for visual clarity.
STATUS LEDs
LEDs representing all important operational information provide feedback to the user. LED descriptions are as follows:
UPS ON – UPS is running normally.
UPS SS – UPS static switch is on while the reserve static switch is opened (off).
SHORT CIRCUIT – UPS output is in short circuit state.
FUSE / OVERTEMP SD – UPS has shut down due to either fuse open or over temperature.
UPS FAIL SHUTDOWN – UPS has shut down due to low inverter AC output voltage.
BYPASS ON SHUTDOWN –UPS shut down due to closed bypass breaker. UPS shut down due closed bypass breaker (while inverter running).
HIGH DC SHUTDOWN – UPS shut down due to high DC bus.
OVERLOAD SHUTDOWN – UPS shutdown due to overload of the inverter for a period greater than the inverter can accept. The UPS will start after 7 seconds.
70% LOAD – load connected to the output is over 70% of the Inverter rating.
110% LOAD – load connected to the output is over 110% oh the Inverter rating.
125% LOAD – load connected to the output is over 125% of the Inverter rating.
150% LOAD – load connected to the output is over 150% of the Inverter rating.
RESERVE AC FAIL – reserve AC magnitude is out of range.
RESERVE FREQ FAIL – reserve frequency is out of range.
BATTERY LOW – DC bus (or battery) is lower than specified range, low battery shutdown will occur soon.
BATTERY LOW SHUTDOWN – inverter shutdown due to DC bus (or battery) lower than the acceptable DC voltage of the inverter.
HIGH DC – DC voltage over the acceptable DC voltage of the inverter.
EMERGENCY STOP – Inverter shut down activated by emergency stop switch.
DATA LINE – Blink when data is transmitted to or received from the communication port
WARNING LEDs
When abnormal condition occurs, these LEDs will light to warn the user of the cause of the fault condition. These LEDs are:
RESERVE FAIL – Reserve AC input is abnormal either due to AC magnitude out of range or frequency out of range.
FUSE/TEMP – Either inverter fuse is open or over temperature has occurred.
OVERLOAD – Output is overloaded by over 110%, 125% or 150%
HIGH DC – This LED will light when DC input approaches high-line limit.
BAT LOW – This LED will light when the DC voltage is low.
BAT LOW STOP – This LED will light when the DC voltage is lower than specified range.
FAULT – The inverter is off due to abnormal conditions such as overload, short circuit, high DC, fuse over temperature, bypass breaker on emergency stop.
AUDIBLE ALARM
The audible alarm will beep under either one of the following conditions:
INVERTER IS OVERLOADED –
> 110% beep once every 3 seconds
> 125% beep once every second
> 150% beep twice every second
INVERTER IS SHORT CIRCUITED – Beeps continuously
FUSE OPEN– Beeps continuously
HEAT SINK OVER TEMPERATURE – Beeps continuously
HIGH DC SHUTDOWN – Beeps continuously
BYPASS ON STOP – Beeps continuously
EMERGENCY ON STOP – Beeps continuously
The buzzer will also beep once every time the inverter is switched on or off to acknowledge to the user that his key entry is valid and accepted.temperature, bypass breaker on emergency stop.
OPTIONS
Battery Disconnect: The optional battery disconnect is offered to provide protection for the batteries.  The electrical code requires a disconnect near the batteries.  We will mount this disconnect inside the battery enclosure, if ordered.  This option is strongly recommended.
Ruggedization: Ruggedization is highly recommended for harsh environment applications, and includes conformal coating of the UPS's PCBs to protect against humidity, condensation, and fungus growth. For military applications, we offer more structural ruggedization, as well as shock mounts, to comply with such standards as MIL-S-901, MIL-STD-810, and other demanding MIL-Specs. This option does not affect size or weight.
UPScan Remote Monitor Panel: This is a hand held remote display and control module with LCD and LED display that can monitor up to 99 UPSs at a remote distance of up to 3,000 feet via RS-485.
NETAGENT:  This provides capability to monitor the UPS over the internet.  It includes the appropriate additional SNMP card and microprocessor.  The software required is provided by Megatec at additional cost.  When equipped with this option, the user can connect a CAT-5 cable for interface to the external LAN.
DCMON:  This is a battery monitor module for all the batteries in each 29 battery string.  This feature can provide information on a defective battery before problems cascade to other batteries in the total battery bank.  Each battery's condition is reported to a user viewable battery display unit which will tell the user the status of each battery. One display is required per each 29 battery string.
Complete Spare Parts Package: We offer a comprehensive spare parts package that includes one of each board, spare fuses, spare semiconductors, and spare fans.  These spare parts kits are priced lower when ordered with the initial order then if they are ordered later on.
Factory Turn-On Service: We offer a turn on service for a fee that will ensure the unit has been properly installed and the full warranty is in effect.  (Failures caused by incorrect installation are not covered by the warranty.)  If this option is selected, the customer will also automatically receive an additional 3 months added to the warranty at no additional charge.  This service is provided by factory engineers, not third party engineers. Pricing is dependent upon location, number of units, airfare rates, etc. Please contact us for more details if interested.

Customized EPO

: This Emergency Power Off (EPO) Feature can be tailored to trip off current breakers or perform other inhibits per specific customer applications.

Shock and Vibration Mounts

: A wide selection of mounts are available for compliance to MIL-S-901, MIL-STD-167, and other related standards.
Premium Wide-Temp Range VRLA batteries with up to 12 year life
Additional run time via external battery cabinets
Drip Shields for protection against falling or dripping liquids
AUX DC Outputs
50/60 Hz Output Switch
Output Voltage Adjustment Knob +/-10%
UL1778 (120/208 VAC, 60 Hz, 10-60 KVA Models Only)
IEC 62040-2 (for 220/380 VAC, 50 Hz Models except 320+ KVA)
EN50091-1
EN50091-2
FCC Class A
Jupiter-Series Models can be equipped with options to meet*:
MIL-STD-810 – for shock, vibration, humidity, and temperature
MIL-STD-167 – for vibration
MIL-STD-461 – for EMI
MIL-S-901 – for shock
MIL-STD-1399 – for shipboard power
*Compliance to these "designed to meet" standards based on similarity to previously qualified designs. Formal Qual Testing to these and other standards is available optionally.