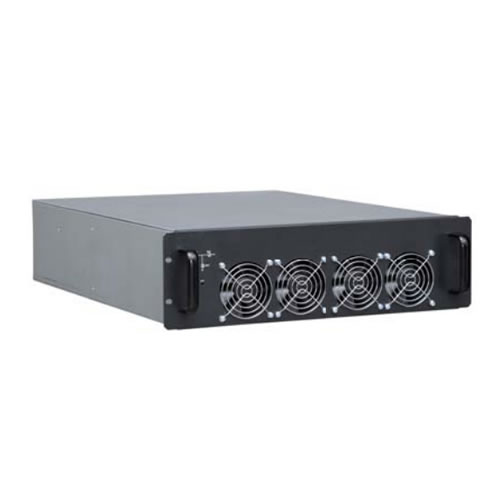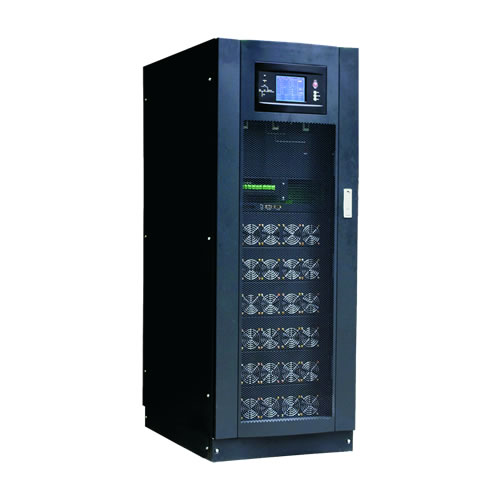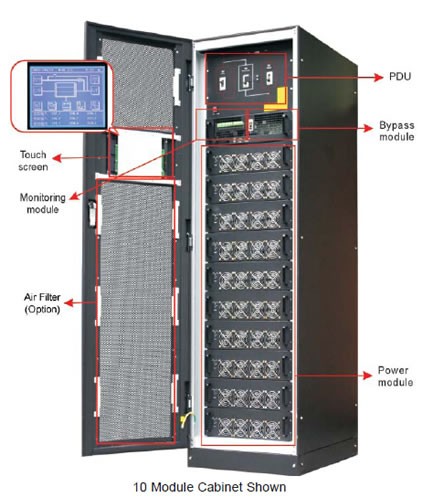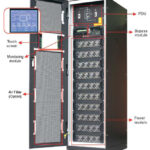 NERM-C Series 6-400 KVA Three Phase Output True Online Modular / Redundant COTS UPS
High input power factor (>0.99) with low input THD-i (<3%).
Low adaptability for linear and nonlinear load.
Low audible noise system design (<55db).
Double DSP controller for each individual power module.
Digital control for all major UPS subassemblies including rectifier,
inverter, battery charger, and battery discharge.
IGBT modules rather than discrete semiconductor components
Are used in the power module for high reliability.
Conformal coated boards for humidity resistance.
Built in PDU circuit breakers for cabinet AC input, AC output and maintenance bypass.
Digital paralleling technology with very low circulating current between power modules.
Front access cabinet with both top and bottom cable connections.
Each individual module is configured with an independent DSP controller to avoid single point of failure risk.
Generator-friendly interface.
RS232, RS485, and dry contacts all standard.
Compare
Compare
Description
Models
Popular Options
Data Sheets
Description
Nova Electric's NERM-C Series True Online UPS provides a modular backup solution for data centers, computer systems, and any other critical equipment which demands dependable backup power. The NERM's state of the art design combines the latest IGBT three-level technology along with modern DSP Control for maximum reliability, low THD-i, and extremely high system efficiency. Modules can be stacked from 6 KVA to 400 KVA, offering hot-swappable flexibility with the highest quality, at a price you can afford. Power expansion is very simple to achieve by adding more individual power modules to the system, which can reach 200 KVA power in a single rack. Two racks can be paralleled for 400 KVA power!
Modular Hot Swap Design
Each UPS power module is designed to be hot swappable for hassle -free power expansion and system maintenance. Each module is controlled independently, thus avoiding a single point failure risk. If any individual module fails or disconnects, the system continues to operate and supply power without interruption, ensuring a high level of reliability
and protection.
Easy Operation and Installation
The modular flexibility of the NERM-Series UPS dramatically reduces technician time spent on installation and maintenance. A large touchscreen LCD panel ensures that users can quickly and easily access
vital information.
Intelligent Battery Management
Each UPS module contains a powerful 3.2 KW battery charger, and up to ten modules can be paralleled for 32 KW maximum battery charging capacity. These chargers are DSP controlled with intelligent digital
algorithms designed specifically to prolong battery life.
The Smart Protection System
Each individual power module and the overall system are protected by both hardware and software. Protection functions include abnormal current, incorrect input or output voltage, over temperature, and short circuit. The combination of these hardware and software protection functions results in extremely high reliability, with a very user friendly interface.
High Reliability Design
The low-loss integrated three-level IGBTs used in each NERM-Series power module result in higher efficiency and enhaced reliability due to lower heatsink temperatures.
Hot swap building block 12 KVA and 6 KVA modules @ 120/208 VAC and 20 KVA and 10 KVA modules @ 220/380 VAC
Independent control.
Designed for parallel operation with active current sharing.
Designed for (N+1) redundancy.
Capable of hot swap.
Automatic mechanical disconnection in case of failure or maintenance.
SPECIFICATION
Capacity
10-200 KVA (to 400 KVA with 2 racks)

MAIN INPUT
Input voltage (with neutral)
220/380, 230/400, 240/415 or 277/480 VAC (with optional transformer)

Input frequency
50/60 Hz

Input Power factor
>0.99

Input current THD (Total Harmonic Distortion)
<3%

Input voltage window
-20% to +20% at full load; -40% to +20% at 70% load or less

Frequency window
40-70 HZ Programmable

BATTERY

Battery voltage
±240 VDC (Nominal)

Charger power
20%*Power

Charger voltage precision
1%

BYPASS
Bypass voltage
220/380, 230/400, 240/415 or 277/480 VAC (with optional transformer)

Bypass voltage window
-20%~ +15%, full load, settable

Bypass overload capability
< 125%, long term operation (2 hours maximum)

125%
130%
>1000%, for more than 100 ms

OUTPUT
Output voltage
220/380, 230/400, 240/415 or 277/480 VAC (with optional transformer)

Voltage precision
±0.5% (balanced load), ±1% (unbalanced load)

Voltage THD (Total Harmonic Distortion)
THD<1.5% (linear load), THD<5% (nonlinear load)

Power factor
0.8

Phase tolerance
120°±0.5°(balance and unbalance load)

Crest factor
3:1

Overload capability
Up to 105%, continuous operation

Up to 110%, transfer to bypass after 1hour

Up to 125%, transfer to bypass after 10 minutes

Up to 150%, transfer to bypass after 1 minute

>150%, transfer to bypass after 200 ms

SYSTEM
System efficiency
Normal mode: 95%

ECO mode: 99%

Battery mode efficiency
95%

Display
LCD+LED, Touch screen and keyboard

IP class
IP20
Interface (Communication Ports)
RS232, RS485, Dry Contacts, SNMP Card, EPO, Generator Interface

Installation/Connection
Top or bottom cable connection

Operation temperature
0-40°C (to 50°C with 15% derating)

Storage temperature (Electronics)
-25°C to +70°C (Battery may be different)

Relative humidity
0-95% (non-condensing)

Noise (dB)
<55dB

Weight (kg/Lb)
Note: Cabinets do not need to be fully populated
6-module Cabinet
NERM060/10,RM090/15,NERM120/20
150kg/330Lb

10-module Cabinet
NERM100/10,RM150/15,NERM200/20
180kg/396Lb

NEPM10 10KVA
20kg/44Lb

NEPM20 20KVA
22kg/49Lb

Dimension (W*D*H)(mm/inch)
6-module Cabinet
600*900*1600 / 23.6*35.5*63

10-module Cabinet
600*900*2000 / 23.6*35.5*78.8

Module (10/20 KVA)
440*600*134 / 17.3*23.6*5.27
SPECIFICATION
Capacity
6-120 KVA (to 240 KVA with 2 racks)

MAIN INPUT
Input voltage (with neutral)
120/208 VAC

Input frequency
50/60 Hz

Input Power factor
>0.99

Input current THD (Total Harmonic Distortion)
<3%

Input voltage window
-20% to +20% at full load, -40% to +20% at 70% load or less

Frequency window
40-70 HZ Programmable

BATTERY

Battery voltage
±120 VDC (Nominal)

Charger power
20%*Power

Charger voltage precision
1%

BYPASS
Bypass voltage
120/208 VAC

Bypass voltage window
-20%~ +15%, full load, settable

Bypass overload capability
< 125%, long term operation (2 hours maximum)

125%
130%
>1000%, for more than 100 ms

OUTPUT
Output voltage
120/208 VAC

Voltage precision
±1% (balance load), ±2% (unbalance load)

Voltage THD (Total Harmonic Distortion)
THD<2% (linear load), THD<5% (nonlinear load)

Power factor
0.8

Phase tolerance
120°±0.5°(balance and unbalance load)

Crest factor
3:1

Overload capability
Up to 105%, continuous operation

Up to 110%, transfer to bypass after 1hour

Up to 125%, transfer to bypass after 10 minutes

Up to 150%, transfer to bypass after 1 minute

>150%, transfer to bypass after 200 ms

SYSTEM
System efficiency
Normal mode: 90%

ECO mode: 99%

Battery mode efficiency
90%

Display
LCD+LED, Touch screen and keyboard

IP class
IP20
Interface (Communication Ports)
RS232, RS485, Dry Contacts, SNMP Card, EPO, Generator Interface

Installation/Connection
Top or bottom cable connection

Operation temperature
0-40°C (to 50°C with 15% derating)

Storage temperature (Electronics)
-25°C to +70°C (Battery may be different)

Relative humidity
0-95% (non-condensing)

Noise (dB)
<55dB

Weight (kg/Lb)
Note: Cabinets do not need to be fully populated
6-module Cabinet
NERM036/06L, NERM072/12L
150kg/330Lb

10-module Cabinet
NERM072/06L, NERM120/12L
180kg/396Lb

NEPM06L 6KVA
20kg/44Lb

NEPM12L 12KVA
22kg/49Lb

Dimension (W*D*H)(mm/inch)
6-module Cabinet
600*900*1600 / 23.6*35.5*63

10-module Cabinet
600*900*2000 / 23.6*35.5*78.8

Module (6/12 KVA)
430*600*134 / 17.3*23.6*5.27

OPTIONS
Ruggedization against high shock, vibration and humidity
MS connector mates
Multiple output outlets
Chassis Slide Guides
Electromechanical transfer switch
Custom enclosures
3Ø Power Input
Premium Wide-Temp Range VRLA batteries with up to 12 year life
"LIFE" models feature internal Lithium Iron Phosphate batteries with embedded Battery Management System for substantial weight savings and longer run time.
Additional run time via external batteries
400 Hz input and / or output
CAD Free Connectors
Non-PVC wiring
28 VDC Input
High IP Protection for front / rear panels (typically IP32,) including louvers on all intake and exhaust, as well as fully gasketed breakers, switches, and indicators.
AUX DC Outputs
NERM Series 6-400 KVA Three Phase Output True Online Modular / Redundant COTS UPS PDF Data Sheet