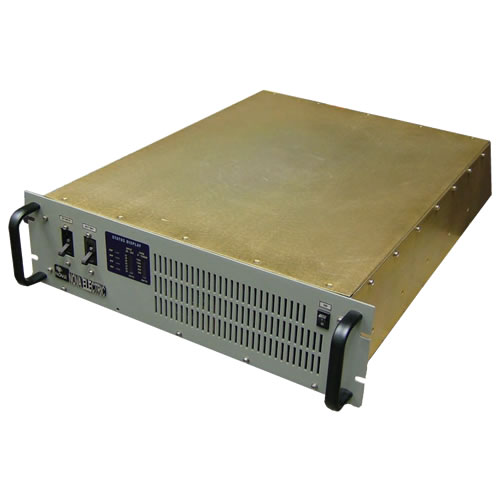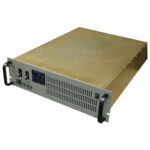 CGLUPS Series Rugged 24 VDC Input UPS System
Microprocessor based design with absolutely accurate and stable frequency.
Panel indicators for battery voltage & load level.
Compact and light weight, yet very rugged
Tightly regulated output voltage and frequency
Switch selectable 50 or 60 Hz output, all models
Capable of driving highly reactive loads such as electric tools and appliances.
Capable of driving highly capacitive loads such as switching power supplies.
Very low harmonic distortion, THD<3%.
Standard DC input 20-32VDC
Standard outputs 110V/60Hz, 230V/50Hz.
Switch selectable ±10V output change.
Below 1W consumption in sleep mode.
Compare
Description
Models
Specifications
Popular Options
Data Sheets
Description
Nova Electric's rugged CGLUPS-Series DC Input UPS is intended for military applications wherever pure sinewave battery-backed AC power is required directly from a DC input source. 28 VDC from Aircraft buss or Land Vehicle alternator feeds the CGLUPS and charges the batteries via diode isolation module, which blocks the batteries from feeding back onto the 28 VDC source. If the DC source is lost, the DC UPS continues powering the load using its internal batteries for approximately 5 minutes at full load, 0.8PF.
Nova's CGLUPS-Series DC Input UPS systems are high-reliability power sources specifically designed for demanding applications in high shock, vibration, humidity, and EMI environments. These rugged, military UPS systems can be built to meet MIL-STD-810, MIL-S-901, MIL-STD-1472, MIL-STD-461, and other standards optionally. These models utilize the most durable componentry, offering maximum field-proven reliability for severe, harsh environments and high reliability applications such as:
Military Applications: Including HMMWV, UAV, Shipboard, Submarine, Aircraft, Mobile Power Units, Shelters, Transportable Systems, Tactical Systems, Ground Support, and more
Heavy-Duty Industrial Applications
Demanding Commercial Applications
Communications Systems
Model Selection
| MODEL | INPUT RANGE VDC | OUTPUT VAC | OUTPUT FREQUENCY (HZ) | CONTINUOUS OUTPUT POWER | APPROX. WEIGHT (LBS) | SIZE IN.(HXWXL) | RUN TIME | OUTLINE DRAWING | |
| --- | --- | --- | --- | --- | --- | --- | --- | --- | --- |
| CGLUPS-1.5K-24-120 | 20-32 | 120 | 50 OR 60 | 1.5KW | 60 | 5.25x19x22.5 | 5 min. | | QUOTE |
| CGLUPS-2K-24-120 | 20-32 | 120 | 50 OR 60 | 2KW | 75 | 5.25x19x24 | 4 min. | | QUOTE |
| CGLUPS-1.5K-24-220 | 20-32 | 220 | 50 OR 60 | 1.5KW | 60 | 5.25x19x22.5 | 5 min. | | QUOTE |
| CGLUPS-2K-24-220 | 20-32 | 220 | 50 OR 60 | 2KW | 75 | 5.25x19x24 | 4 min. | | QUOTE |
Input Voltage: 20-32 VDC
Output Voltage 110V model: 100/110/120 VAC
Output Voltage 220V model: 220/230/240 VAC
Output Frequency: 50 or 60 HZ User Selectable
+/- 0.05% Accuracy
Surge Rating: 2KW for 1.5KW Continous Models
4KW for 2KW Continuous Models
Efficiency (full load): 110V model 83%
Efficiency (full load): 220V model 86%
No load Current: <1.0W Sleep Mode
Output Waveform Sinewave: <3% THD
Output Regulation: -10% / +4% All models
Protection: Overload, Short Circuit, Reverse Polarity (Fuse), O.T., Over/Under Input Voltage
MTBF: 30,000 hours per MIL-HDBK-217
MTTR: 30 minutes by qualified personnel
ENVIRONMENTAL
Ambient operating temperature range: -20° to +50° C
Storage temperature range: -40° to +60° C (with optional premium batteries)
For best results, batteries must be kept at 25 degrees Celsius ambient temperature. Extreme low temperatures will result in reduced run time, while extreme high temperatures result in significantly reduced battery lifespan. For more information, please read our Application Note – The Effects of Extreme Temperatures on Batteries.
Humidity: to 95% RH non-condensing – Designed to meet MIL-STD-810. All boards conformal coated with Acrylic MIL-I-46058 Type R.
Shock: 20g, 11 mS half sinewave – Designed to meet MIL-STD-810 optionally
EMI: Designed to meet FCC Part 15, Class A. Designed to meet MIL-STD-461 with optional additional filtering.
Elevation:
15,000 ft. (4,572 m) operating**
40,000 ft. (12,192 m), non-operating**
**For batteries, please follow battery manufacturer instructions regarding recommended elevation parameters.
Audible noise: Less than 55 dBA at 5 ft. (1.5 m)
Transportation and handling: MIL-STD-810
Protective Features
Circuit Breakers: DC Input & Battery Breakers
Ruggedization against high shock, vibration, and humidity (MIL-STD-810)
MS connector mates
Premium batteries with up to 10 year life