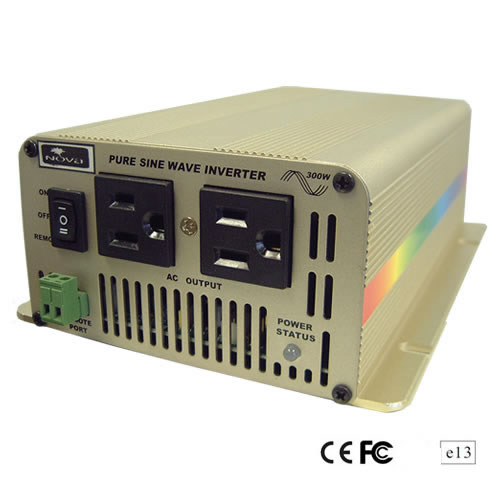 CGL Series 12 VDC Nominal 300 Watt Pure Sine Wave DC-AC Inverters
Microprocessor based design with absolutely accurate and stable frequency.
Panel indicators for battery voltage & load level.
Compact and light weight, yet rugged and vehicle rated, 83-90% efficient.
Tightly regulated output voltage and frequency
Selectable 50 or 60 Hz output, all models
Capable of driving highly reactive loads such as electric tools and appliances.
Capable of driving highly capacitive loads such as switching power supplies.
Very low harmonic distortion, THD<3%.
Suitable for vehicle or wall mounting.
Standard outputs 110V/60Hz, 230V/50Hz.
Switch selectable ±10V output change.
Compare
Compare
Description
Models
Specifications
Data Sheets
Description
Nova Electric's CGL-Series inverters are intended for commercial and industrial applications wherever pure sinewave power is needed at 50 or 60 Hz. These inverters are ideal for running electronic loads such as computers, monitors, printers, telecom systems, radios, fluorescent lamps from batteries, field generators, and solar electro-voltaic panels. They can also drive hand drills, motors and small compressors – please consult the factory for proper sizing. These CGL models can also be optionally ruggedized against shock, vibration, and humidity for military applications including vehicle mounted, shipboard, submarine, aircraft, and ground fixed shelters.
| SPECIFICATION | CGL300W-12-110 | CGL300W-12-220 |
| --- | --- | --- |
| EMI Conduction and Radiation | Compliance to FCC class B | Compliance to En55022 class B |
| EMS Immunity | – | Compliance to EN61000-3-2,3 |
| LVD | – | Compliance to EN60950-1 |
| e-MARK | – | Compliance to e-13*72/245/EEC, 95/54/EC |
[button link="https://novaelectric.com/pdf/RoHS-Conformity-2016.pdf" size="medium"]Declaration of RoHS 2.0 Conformity[/button]
Input Voltage: 12V Model (10.7-15VDC)
Output Voltage 110V model: 100/110/120 VAC
Output Voltage 220V model: 220/230/240 VAC
Output Frequency: 50 or 60 HZ (Selectable) +/- 0.05% Accuracy
Continuous Power Rating: 300W/350VA
Surge Rating: 400W/480VA
Peak Output Current: 10 Amps 110V model / 5 Amps 230V model
Efficiency (full load): 110V model 83%
Efficiency (full load): 220V model 90%
No load Current: 0.7A for 110V Models, 0.35A for 230V Models
Output Waveform Sinewave: <5% THD
Output Regulation: -10% / +5% All models
Protection: Overload, Short Circuit, Reverse Polarity (Fuse), O.T, Over/Under Input Voltage, Fan Failure
Operating Temperature:  -20 ° to +50°C Storage Temperature: -40°C to + 70°C
Size: 9.33″x6.1″x2.83″ (237.0 x155 x 72.0mm)
Weight: 3.5KG (7.7lb)