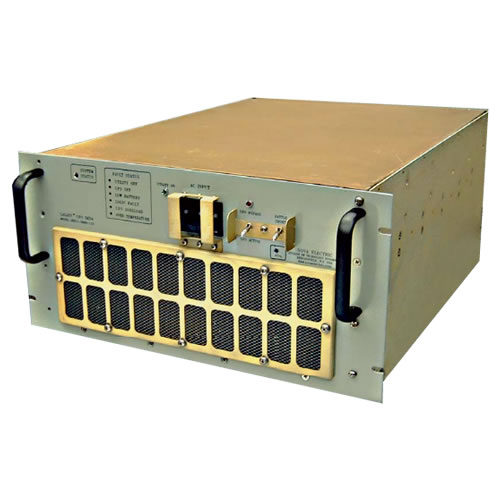 Navy Galaxy Series 5 KVA Rugged True Online UPS
Formally Qualified to MIL-STD-1399, MIL-STD-461, MIL-S-901, MIL-STD-810, MIL-STD-740, and IEC 68-2-6
Field Proven Reliability
Lithium Iron Phosphate Batteries Available Optionally
Double-Conversion UPS Systems
Rack-Mount, Double-Conversion UPS Systems
Rugged UPS System
Military UPS System
True Online UPS Technology
Compare
Compare
Description
Models
Specifications
Popular Options
System Compliance
Data Sheets
Description
Nova Electric's rugged Navy Galaxy-Series true online UPS Systems are specifically designed for submarine and shipboard applications in compliance to MIL-STD-1399, MIL-STD-461, MIL-S-901, MIL-STD-810, MIL-STD-740, and IEC-68-2-6. These units are in heavy use on the US Virginia Class Submarine, as well as countless other high profile shipboard and submarine applications in US and US-friendly fleets worldwide. This true online UPS series has a three-phase power factor corrected (PFC) input of 115 VAC L-L, 50/60 Hz per MIL-STD-1399 Section 300 Type I and a pure sinewave galvanically isolated output. Output frequency is available in 50, 60, or 400 Hz (specify.)
Model Selection
| MODEL | KVA / KW | INPUT | OUTPUT | UPS (LBS) | RUN TIME | BATTERY (LBS) | OUTLINE DRAWING | |
| --- | --- | --- | --- | --- | --- | --- | --- | --- |
| NGRS11-5K60-115(D)-115 | 5 / 2.5 | 115VAC L-L | 115VAC | 125 | 10 min | 120 | | QUOTE |
ELECTRICAL
Input Voltage: 115 VAC L-L, 50/60 Hz per MIL-STD-1399 Section 300 Type I
(other voltages available optionally)
Input Frequencies available (specify): 50, 60 or 400 Hz
Output Voltages available (specify): 115, 120, 208, 220, 230, or 240 VAC 1Ø
Output Frequency (specify): 50, 60 or 400Hz
Voltage Regulation: +/- 2% NL to FL
Frequency Regulation: 0.1%
Harmonic Distortion: 2% THD Typical 5% Max
Input Power Factor: 0.99
Efficency at full load: 82% typical
Overload: 125% for 5 minutes
EXTERNAL BATTERIES
3.5″ High x 19″ Wide x 24.125″ Deep / 120 Pounds
External 96 VDC nominal rack mount battery drawer containing sealed maintenance-free, user-replaceable premium wide-temp batteries rated for 8-10 years lifetime. Battery cabinets and racks available for UPS runtime from 5 minutes to 24+ hours.
PROTECTIVE FEATURES
AC & DC Input Circuit Breakers
Low Battery Shut Off
Overload and Thermal Protection
Audible Alarm with Silence Switch
Optional EPO
ENVIRONMENTAL
Operating Temperature: -20° to +50° C per MIL-STD-810D
Storage Temperature Range: -30° to +60° C
Humidity: to 95% non-condensing
Elevation: 15,000 Ft. (4.572m) operating
40,000 Ft (12.192m) non-operating
Audible noise: Less than 55 dBA at 5 ft. (1.5 m)
EMI: Per MIL-STD-461B/E
Vibration: Per IEC 68-2-6 Type I
Shock: 20g for 20ms half sinewave per MIL-STD-901C Grade A
Structureborne Noise: MIL-STD-740B Grade A
MTBF: 30,000 hours
MTTR: 30 Minutes
ALARM AND DIAGNOSTICS
System Status: Green/Red
Utility Off: Red
UPS Off: Red
Low Battery: Red
Logic Fault: Red
UPS Overload: Red
Over-Temperature: Red
Load on Utility: Red (with XFR SW option)
COMMUNICATIONS
Alarm Contacts: Standard
RS 232 or SNMP: Optional
MS Connector Mates and Multiple Output Outlets
Chassis Slide Guides
Internal Transfer Switch
Additional Run Time via External Batteries
400 Hz Input and / or Output
CAD Free Connectors
Non-PVC wiring
28 VDC Input
High IP Protection for front / rear panels
AUX DC Outputs
SYSTEM COMPLIANCE
MIL-STD-1399 Section 300B: For Type I apparatus
Additional Ruggedization to meet MIL-STD-901, IEC 68-2-6, and MIL-STD-810: The UPS System's construction is extremely robust, and ruggedized throughout. All components and modules within the unit are mounted using additional steel brackets and heavy-duty stainless-steel hardware, which is then further secured using Loctite and RTV where required. All boards are conformal-coated (Acrylic MIL-I-46058 Type R) for maximum resistance to potential condensation and fungus growth.
MIL-STD-901C for Grade A, Class II Equipment: Shock test with half sinewave, 20ms duration, 15g peak acceleration shock pulse.
IEC 68-2-6 for Type I Testing: Between 3-10 Hz amplitude to be 0.5mm. Between 10-50Hz acceleration to be 2 m/s2
MIL-STD-810D: Operating Temperature Tests including High Temperature Test per Procedure II, Method 501.2, Table 501.2-II Ambient Air, 4 Cycles @ 24 Hours per cycle, Low Temperature Test per Procedure II, Method 505.2, Table 505.2-I Region CO, 4 Cycles @ 24 Hours per cycle, and Temperature Shock Test per Procedure I, Method 503.2, between 0-40 degrees Celsius, 4 Cycles @ 24 Hours per cycle.
MIL-STD-740B Structureborne and Airborne Noise: For Grade A Type III Equipment.
Internal EMI Reduction Package to meet MIL-STD-461: The design of this unit is specifically focused on reducing EMI emissions. The UPS contains substantial internal filtering to minimize EMI emissions. Inputs which may be susceptible to transients are protected by several methods, including MOVs. All internal magnetics are shielded with copper and mu-metal to further minimize emissions. The compact rack mount chassis is specifically treated with low surface resistivity finishes on the interior. All aluminum parts are treated with clear irridite. The steel parts are treated with zinc plate, followed by a clear chromate. All exterior portions (except for mating surfaces) are then painted with glossy ANSI-61 gray to assure excellent bonding of mating sheet metal parts. All input and output ventilation filters include metal honeycomb-style filters.
MIL-STD-461B Part VI for EMI Class A5: CE01, CE03, CS01, CS02, CS06, CS09, RE01, RE02, RS01, RS02, RS03.
Super-Rugged, Long Life Hawker Energy Batteries: External Hawker Energy sealed, maintenance free batteries provide 10 minutes back up time at full load. These batteries are extremely resistant to shock, vibration, and wide temperature ranges. Also, they have a very long service life (8-10 years measured at 25 degrees Celsius ambient temperature) for a minimum of maintenance. The batteries are user replaceable.
Pressure Tests for Submarine Usage: The Navy Galaxy Series UPS System was tested to atmospheric pressure within the range of 750-1250 millibars, and maintained standard operation to specification to the following test pressures for 1 hour:
250 millibars above ambient (applied within 30 seconds and released within 30 seconds)
250 millibars below ambient (applied within 30 seconds and released within 30 seconds)
Ambient pressure of 1000 millibars